Apple announced iPad Pro in an event held in Brooklyn. In the hardware event, iPad Pro was the showstopper among MacBook Air 2018, everything else Apple announced. After months of speculations, the company unveiled the most anticipated tablet PC of this year. The iPad Pro 2018 comes with a lot of hardware improvements and a bezel-less screen. This year, iPad Pro comes with two screen sizes, 11-inch, and 12.9-inch models.
iPad Pro 2018 comes with a Liquid Retina display, the same as iPhone XR. Inside iPad Pro, the tablet PC is running on a powerful A12X Bionic chip which is faster than A12 Bionic chip used in the new iPhone models. iPad Pro can render objects in games and apps individually because of the next-gen A12X Bionic chip.
Let's talk about the iPad Pro 2018 in detail.
Liquid Retina Display
The all-screen design goes to the edges and comes with a loss; the iconic Home button is no more. As previously suggested by leaks, the iPad Pro was hinted to arrive with an almost bezel-less screen and no home button. It turns out that the reports were accurate. Apple removed the Home button from the iPad and pushed the design to another level with a large screen.
The edge to edge Liquid Retina display comes with advanced pixel masking. It also supports wide color, True Tone, and has an anti-reflective coating for accurate and natural viewing experience both out and indoors.
Another display feature ProMotion adjusts the display of the tablet PC 120 Hz and creates smooth visuals on the iPad Pro.
iPad Pro is a treat for artists, with a large screen, artists can use this tablet's display as a canvas to create spectacular art. The power of A12X Bionic enables artists to play with software that can create stunning visuals.
11-inch iPad Pro has a more prominent display and packs more pixels than the 10.5-inch model. 12.9 -inch display is the largest iPad display with 25% reductions in volume. Both iPads are incredibly thin and lightweight with just 5.9 mm thickness.
USB-C connector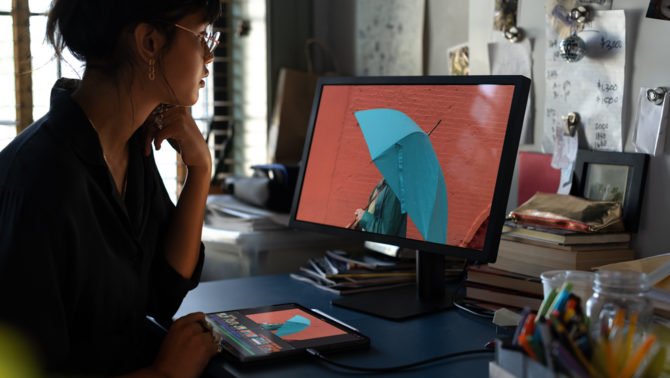 The iPad Pro replaces the Lightning connector with USB-C allowing faster transfers. It is equipped with Gigabit-class LTE support and can connect with external monitors. The new neural engine on iPad Pro outperforms the majority of PC laptops. With over one million apps on the App Store designed for iPad Pro, the tablet PC takes the lead in the tablet PC market.
You can now connect an external monitor of up to 5K. USB-C boosts data transfer speed from cameras and hard drives. You can also use your iPad Pro to charge an iPhone.
Real Photoshop on iPad Pro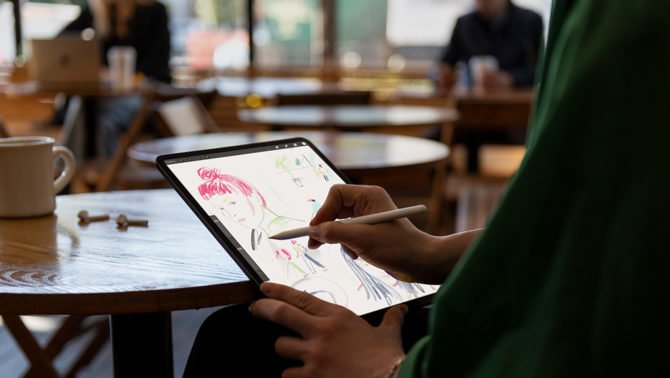 While talking about artists, we cannot forget Photoshop on iPad Pro. The tablet PC now supports the full version of Photoshop CC. Artists can use complete desktop class Photoshop CC on iPad Pro. The incredible rendering power of iPad Pro enables artists to play with multiple objects in their design. Photoshop CC is coming on iPad in 2019.
Another thing from Adobe that amazed the crowd was the introduction of Augmented Reality in Photoshop named as Project Aero. Artists can use their designs in creating fantastic content for AR world. Creators can use new Photoshop AR features on iPad Pro to turn their art into the Augmented Reality world.
A12X Bionic Chip
vViaA12X Bionic is faster and better than the one used in the new iPhones. It is even faster than PCs and other notebooks. Editing photos and creating 3D models is now more accessible on the iPad Pro. Apple's A12X Bionic is 35% faster in single-core performance and 90% faster during multi-threaded tasks. It enables breakthrough experiences and console-quality gaming. Apple compared Xbox One X with the iPad Pro during the event.
With A12X Bionic, iPad Pro offers 10-hour battery life.
Face ID on iPad Pro
With the A12X Bionic chip, the iPad Pro has the best and most secure authentication. It is the first time that Face ID is on an iPad. Face ID designed to work with iPad Pro in any position. You can also pay, purchase apps, use Animoji and Memoji on iPad Pro with Face ID and True Depth camera respectively.
AR on iPad Pro
iPad Pro is the most powerful and smartest tablet PC. A12X Bionic makes it the best AR device to date. It enables developers and creators to create next-gen AR apps. iPad Pro opens a new world of AR experience in a tablet PC, and it renders objects like never before. The real-world objects reflection and 3D in the iPad Pro lets artists create visual masterpieces.
Project Aero will allow the creators to take AR experience on iPad Pro to a whole new level. Project Aero by Adobe on Photoshop CC is coming in 2019.
Apple Pencil & Smart Keyboard Folio
The new Apple Pencil and Smart Keyboard Folio will be sold separately. Apple Pencil is more precise than before and with the addition of magnets you can attach is easy with iPad Pro. You can also charge Apple Pencil wirelessly with your iPad Pro. The keyboard is comfortably adjustable on your lap or desktop.
Both 11-inch and 12.9-inch iPad Pro will be available in silver and gray colors. iPad Pro starts from the 64GB base model and comes in 256GB, 512GB, and a whopping 1TB configurations. iPad Pro starts at $799 for the base model, and the iPad Pro 12.9-inch model starts at $999. Apple pencil will be available for $129 and a smart keyboard for $179 for 11-inch and $199 for 12.9-inch iPad Pro.
Do you like the iPad Pro 2018, let us know what do you think of the iPad Pro 2018 in the comments.
Stay tuned for the full review! Here is the full iPad Pro 2018 review.