Long gone are the days when just Apple and Samsung were the top dogs in the smartphone business. The competition is getting fiercer every year, and new smartphone brands are popping up every day it seems.
Now, Chinese manufacturers such as Xaomi, Oppo, OnePlus, and Huawei are dominating the market because of their affordable phones. Not only are they cheaper, but they offer great value for the price as well. Good specs with a great price tag – what more could one ask for?
Nokia has now joined the race as well, offering some great tech for the money. Nokia phones such as the Nokia 6.1 Plus and Nokia 7.1 Plus have great build quality, great battery life, and decent performance. So to say competition is extremely cutthroat right now in the smartphone would be an understatement.
Samsung has been around for ages now. It is the phone that ended Nokia's dominance of the smartphone market by being one of the first phones to adopt the Android Operating System. But Samsung has lost some of the innovative edge it had 5 or 6 years ago.
Don't get me wrong, Samsung is a solid choice if you don't want to buy an iPhone. But the company hasn't been able to spice things up for a long time now. It has been repeating the same formula for the last few years and just slightly improving on that by offering better specs each year.
To change this "rinse and repeat" formula, smartphone manufacturers are revamping the way smartphone cameras work. Phone manufacturers believe cameras have the most impact on a mobile phone's utility. That is why every phone company is trying to one-up its competition by adding their own twist to the way cameras are traditionally used.
Samsung seems to have truly outdone its competitors in the camera department by releasing the A9. Its top feature is not one, not two, but FOUR rear cameras. This makes it the world's first smartphone to have a quad-camera.
Key Specifications
Display
5.7 inch Super AMOLED Infinity Display
Processor
Octa-Core Snapdragon 660 Processor
Memory
6GB or 8GB
Battery
3700 mAh
Operating System
Android 9.0 Pie
Camera
Quad Cameras:

120 Ultra Wide lens
Telephoto lens with 2X Zoom
24MP main sensor with f1.7
Depth sensor f2.2

Internal Storage
128GB (supports microSD up to 512GB)
Colors
Caviar Black, Lemonade Blue, and Bubblegum Pink
Price
$499
Cameras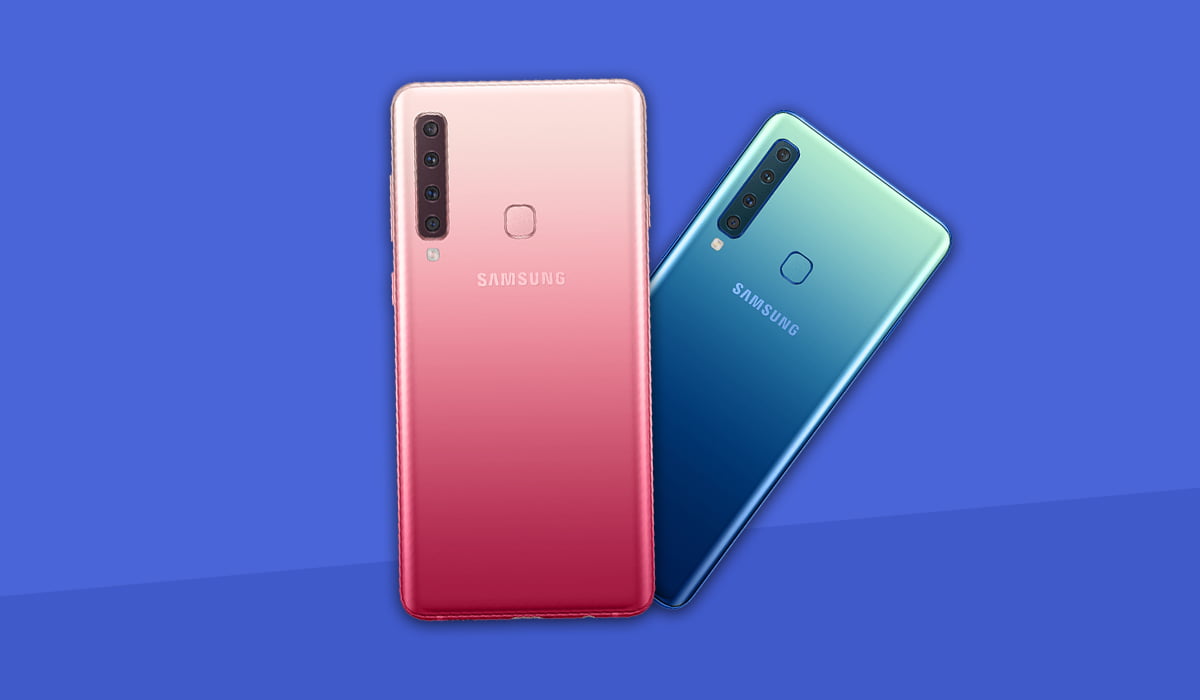 Each camera serves a different purpose. One camera provides depth to the scene; one shoots in telephoto mode, then there is the 24 MP actual shooter, while the remaining one is the ultra-wide-angle camera.
Samsung has also tweaked its software to improve the camera's functionality. The software features include Flaw Detection and Scene Optimiser. This will give a lot of options to the budding photographers in all of us and might turn amateurs into pros. Ok, not really, but it would be great though.
After all, the more cameras, the better, right? Samsung had a vision while making this phone. It aimed to help photographers capture the best scene possible, with little difficulty or room for error. It is made for the photo purists out there.
If we take a look at Scene Optimizer, it's clear where Samsung's intelligent software comes into the equation. Scene Optimizer automatically detects nineteen scenarios according to the subject. They include Text, Birds, Street Scenes, Waterslides, Waterfalls, Snow, Night Scenes, Beaches, Sunrise and Sunsets, Mountains, Sky, Trees, Greenery, Animals, Landscapes, Food, Flowers, and Portraits.
Flaw Detection helps detects, yep you guessed it, flaws in the pictures. These flaws include facial blurs, eye blinks, and backlighting issues. The phone will notify users when such errors occur when the photo is taken. This gives users a second chance to capture the moment.
As if the rear cameras weren't impressive enough, the front camera is a 24 MP selfie monster. The 24 MP selfie camera is enhanced by innovative low light technology that reduces noise at night while increasing brightness. The front camera is also helped by some software magic. Selfie Focus makes sure you remain the center of attention by blurring out the background, so the camera focuses on your face. This ensures selfies come out as crisp as possible, in every scenario imaginable. Although, recently, Samsung got caught using a DLSR-taken stock photo as a photo taken by Galaxy A8 Star's portrait mode.
More details about the cameras are as follows:
Rear Quad Cameras:
An Ultra-Wide sensor has a 120° angle span
The telephoto sensor comes with 2X Zoom
The main sensor is a 24MP shooter with an f1.7 aperture lens
The Depth sensor has an f2.2 aperture with Live focus
Front Camera:
24MP camera with F2.0 aperture lens
Build Quality and Colors
Samsung is trying to add more style to the standard smartphone colors as well. The Galaxy A9 will have gradient colors with Lemonade Blue and Bubblegum Pink. Or you can take the classic route with the glossy Caviar Black. In my opinion, the A9 has the best pink-colored phone on the market. An important note to remember: the colors may vary from country to country.
The phone is made out of glass and metal which unsurprisingly makes it slippery and smudgy when held for longer periods. It is quite tall and slim, so users with small hands might have difficulty managing the phone with one hand. Samsung still kept the dedicated Bixby Assistant button, which is nowhere near as good as Google Assistant, so it's a waste of a good button, in my opinion.
It isn't waterproof, so keep that in mind.
Display
The phone offers an immersive visual experience due to a massive 6.3-inch Full HD+ Super AMOLED Infinity Display. It has thin bezels, and guess what? No notch! This is a massive plus in my humble opinion. I am just not a fan of the notch.
The screen has a resolution of 1080 x 2220 pixels. It has the same punchy vibrancy, great brightness, and vivid colors we've come to expect from Samsung. It has 466 nits of brightness, which is brighter than the OnePlus 6T.
Specs and Performance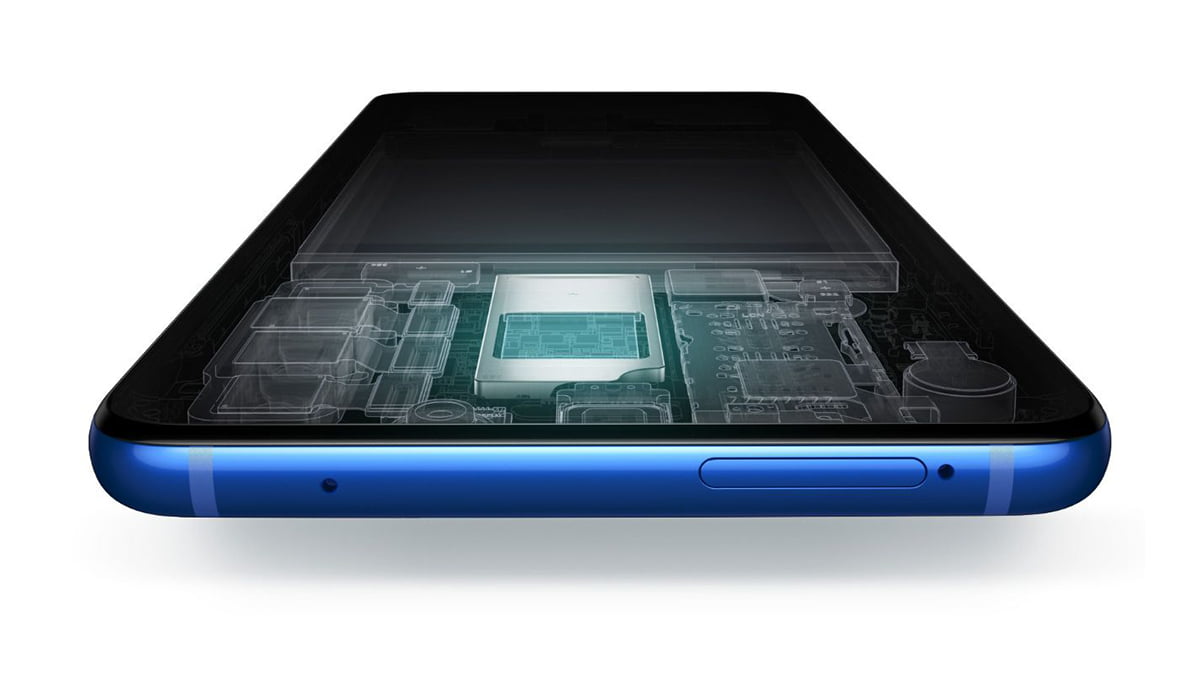 It has an Octa-Core Processor Snapdragon 660 processor with 6 GB and 8GB RAM variants and 128 GB of internal storage with an SD card that can increase the capacity by up to 512 GB. But the A9 performed poorly regarding performance compared to the Pocophone F1 and OnePlus 6T.
It still baffles me how our smartphones are increasingly becoming more powerful than our computers, and may even have more space in them, thanks to expandable storage.
Ports
The A9 also has a fingerprint sensor at the back which provides a quick way to unlock the phone. Luckily there is a 3.5mm headphone jack. It has a single front-firing speaker at the bottom which is quite underwhelming, to be honest. It doesn't get loud and has very little clarity in the sound.
There is a USB-C port for fast charging and quick data transfer speeds. USB-C should become the norm in every phone now. It is much much better than micro-USB, which some great phones still come equipped with, such as the Honor 8X.
Heavy media consumers will be happy to know that there is an SD card slot available which can give up to 512 GB of extra space.
Battery
Galaxy A9 has a huge 3800 mAh battery, enough to last you easily through the day. It also has fast charging, so rest assured all you busy bees, you can charge your phone in a flash.
The Galaxy A9 lasted on average 9 and a half hours, which is higher than the average battery life. USB-C also helps to top up the battery quickly.
Conclusion
Samsung made it clear that it wants bigger and better things with the A9. It's definitely going to be an upgrade from the recently launched A8s, which had 3 cameras in the back. Samsung is looking to beat Huawei at its own game. It knows how much of an impact Huawei is making due to its attractive price point, good camera performance, and eye-catching colors.
But sadly, Samsung priced the phone way too aggressively. It is also not nearly as speedy as the OnePlus 6T. So you are better off buying the OnePlus 6T or PocoPhone F1 for now.
The A9 is currently on sale for 599 euros.
So, do you think the price is worth it? Let us know in the comments section below!