A few years back, when Google killed Nexus series, I was disappointed because Nexus phones were my kind of phones. Affordable, buttery smooth Android experience and with guaranteed OS updates for a few years. Unlike other phones, Nexus phones were quick in performance even after years of their release. I used Nexus 5 for a long time, and it worked fine for me.
Nexus phones were not "the best" at the camera, nor they had an excellent built quality, but the software updates straight from Google before any Android phone was appealing to me like a dream come true for a true Android geek.
With the release of Pixel phones, Google changed the standard of their phones by improving build quality and adding drastic changes to the camera. Since then, Google is unbeatable in the camera department.
The leaks were true. Moreover, the Pixel 3 XL phone looks the same just like a nightmare because of the notch. But its here so let's have a look on key specs and then move on to the full review.
Google Pixel 3 Review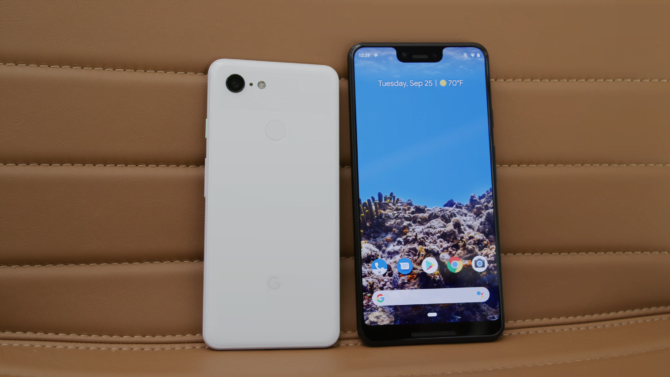 Key Specs
Display
Pixel 3: 5.5-inch P-OLED (1080 x 2160 pixels) 18:9 Display
Pixel 3 XL: 6.3-inch P-OLED (1440 x 2960 pixels) 18.5:9 Display
Camera
Main Camera: 12.2MP, 28mm wide lens, f1.8, dual pixel PDAF, Dual LED Flash
Front Camera: 8MP Dual front-facing cameras (f/1.8(28mm, wide), f2.2(19mm, ultrawide))
Chipset
Octa-core Qualcomm Snapdragon 845, Adreno 630
Memory
4GB RAM, 64/128 GB Internal Storage
Battery
Pixel 3: 2915 mAh/ Li-Polymer non-removable battery
 Pixel 3 XL: 3430 mAh Li-Polymer non-removable battery
Operating System
Android Pie 9.0 (Updates guaranteed up to 2 years)
Sensors
A fingerprint sensor, Accelerometer, Gyro, Proximity, Compass, Barometer
Special Features
Fast Charging, Qi Wireless charging, IP68 water/dust Resistance, Stereo Speakers
Bummers
Notch, No Headphone Jack, No Expandable Storage
Colors
Just Black, Clearly White, Not Pink
Price
Pixel 3 (from $799), Pixel 3 XL (from $899)
Design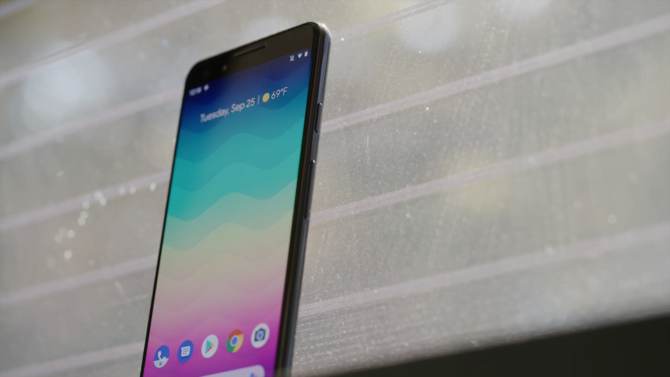 Pixel 3 is the third phone by Google under Pixel branding. The series is an attempt to take on all flagship phones with industry standard design, top-notch camera, and vanilla Android experience. The phone has metal sides with more than half frosted glass back. In addition to frosted back glass, a polished glass gives it a shiny look.
The phone comes with a premium build quality, but the frosted glass is easily scratchable. If you are a case person, you would be fine otherwise get ready for steady scratches. It can get easily scratched so either go with skin or get a case for it.
The fingerprint scanner placement is perfect under the glossy back and is brilliant as the previous model. Everyone was expecting Google to add a Face ID like facial recognition system, but both phones don't have any dedicated sensor for face unlock.
The side buttons are tactile and clicky like before, and the power button is colored. The bottom of the phone has SIM tray, USB-C port (painted black inside) and no headphone jack. The stereo speakers on the chin of the phone and they sound great even better than Galaxy Note 9.
The phone may not have a headphone jack but unlike Apple Google is shipping a USB-C headphone and a 3.5 mm to type C converter in the box. There's a slight camera bump in the Pixel 3 and Pixel 3 XL, but that is merely 1mm.
Pixel phones are now IP68 water resistant. They also support wireless charging which is satisfying for people who hate cords. You can get Pixel Stand a new wireless charger from Google for $79 and get great charging features in your Pixel phone.
The phone comes in three colors, and they are quite dull. There's no panda edition Pixel this year, and I'm already missing it. The new phones colors are Just Black, Clearly White, Not Pink.
Display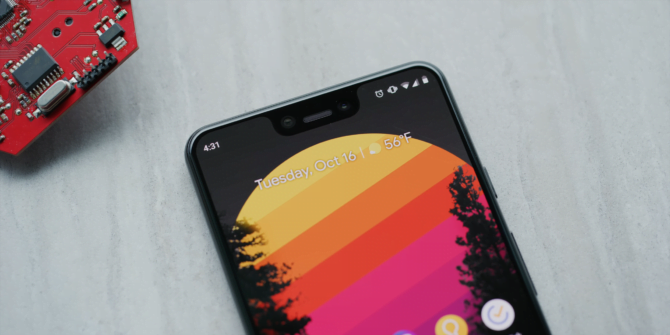 Pixel 3 XL is using P-OLED panel by Samsung. However, the smaller Pixel 3 is rocking a P-OLED panel by LG. It's a gorgeous display with crisp and vibrant colors. The screen is brighter with a slight color shift on different viewing angles.
Notch! You cannot ignore it, and you can't talk about this phone without ignoring it. It's tall. It's not bigger than other notches though. It has the same volume just like other notches. However, the way it is, it just feels cumbersome, and it surely is a poor use of space.
Google didn't say anything on why the notch is so tall. So, it's just here. You can hide it in the developer settings, and it goes away. The Pixel 3 doesn't have a notch. So, either you can get a small Pixel phone with less battery and screen size or hide the notch on Pixel 3 XL from the developers' settings.
Android Pie
Inside the phone lives a vanilla version of Android. Google knows what works best with the hardware. Google Pixel phones are running on Android Pie 9.0 and will get updates for two years. The phone has many smart features including Google, Lens, Call Screen, squeeze to access Google Assistant, and Now playing.
Smart features
Google lens integration in Pixel phones is getting even better with new updates. It now lets you shop the objects it detects. Scan documents, recognize objects, animals and scan QR codes with Google Lens. You can access it in the stock camera app.
Call screen is one of my favorite features from Google Pixel. It lets you screen calls that you think are spam. It also enables you to read the transcript after you screen a call, you can choose to accept the call, reject it or mark as spam.
Google assistant is integrated right into these phones. You can trigger Google Assistant via long press on the home button or use squeeze feature and assistant will pop-up. You can also use voice commands to access assistant. It's smart and getting smarter every day.
The now playing feature is impressive on Pixel 3, it also keeps a history of songs that it detects and knows what's playing around you. With all these smart features in Pixel 3, there is still unfinished business that Google promised to fix in later updates.
Some apps are not optimized with the notch. Instagram is not optimized to work with the notch. The stories look disastrous with the notch. Apps like YouTube is not optimized as well, and it doesn't show the video as it should. The groove cuts the footage when it fills the screen. Unlike other phone companies like Apple, Google has plenty of notch issues.
Gestures
Gestures on Android Pie are horrible. It seems like Google is not sure about how they should execute the idea of gestures. Pixel 3 comes with default gestures turned ON. Unlike old Pixel phones, you cannot switch back to navigation keys in Pixel 3 and Pixel 3 XL. So, you have to stick with them.
With iPhone X, Apple is shifting on gestures. Google tried to mimic it but failed drastically. Gestures in Android Pie are not as smooth and polished.
The new gestures on Android Pie are confusing. You have to swipe two times to get into the app drawer, and the split screen feature is now doomed. The gestures need more work in Android Pie. Probably we will get better gesture support in Android Q, but till now, they are just inconsistent and drastically inconvenient. Google confirmed that you could not turn off these gestures in Pixel 3 and Pixel 3 XL, unlike other Android Pie phones.
Also Read: Huawei Mate 20 Pro: An Ambitious Phone with Wild Camera & Tricks
Hardware:
The phone doesn't have any surprising internals. Pixel 3 comes with a Qualcomm Snapdragon 845. Unlike other Android phones which are going with 6 Gigs and sometimes 10 Gigs of RAM, Google is still keeping 4 Gigs of RAM in both Pixel phones. However, the battery works pretty subtly, and the performance on the phone is always top-notch.
One thing that I should say here is that with more RAM we can get more apps in the background. With Pixel 3 and Pixel 3 XL, the apps keep reloading whenever you switch between apps. If you receive a call while playing a game, it won't hold it in memory, and you have to start again, all your progress is gone.
Battery: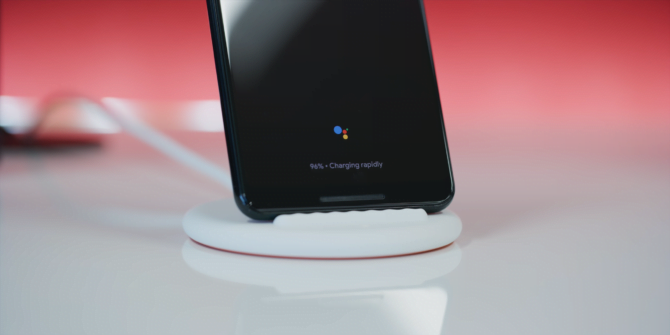 Pixel 3 and Pixel 3 XL come with average battery life. The XL version will get you through a day, and the Pixel 3 gives an hour less than Pixel 3 XL. Don't expect them to last longer than a day. The adaptive battery feature of Android Pie works perfectly on Pixel and saves a ton of juice for you.
Pixel 3 usually gives four-hour screen on time while the XL is slightly above the smaller version with five-and-a-half-hour screen time. It depends on the usage, and you can extend the battery life by using adaptive battery and power saving mode. Also, with fast wireless charging, you can charge your Pixel phones fast with Pixel Stand.
Camera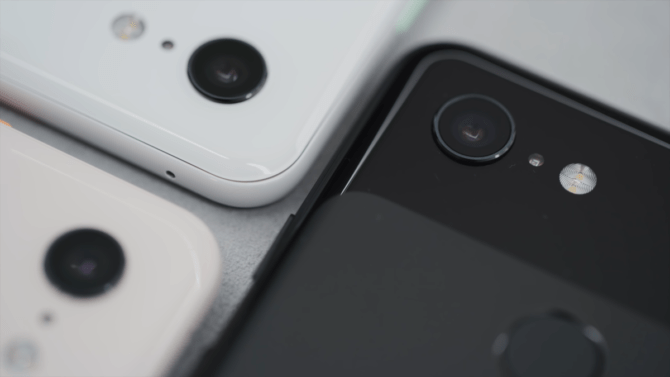 Now, let's talk about the most hyped and exciting feature of Google Pixel phones. With first generation Pixel phone, Google is exceeding in the camera brilliance with the help of their algorithm. Unlike other smartphone OEMs, Google can create incredible photos with just one lens. It's just an awesome camera Pixel 3 and Pixel 3 XL. With Google's AI algorithms and image processing it's the best camera in any smartphone.
There's one camera on the back where we have multiple cameras in smartphones. Image processing is top notch. Better than Samsung Galaxy flagships, iPhone XS and iPhone XS Max, Red Hydrogen, and Huawei Mate 20 series.  AI tweaking the photos, no over processing, and portrait mode is getting better. You also get unlimited Google Photos backup with Google Pixel phones. The new features
Super res zoom is not that drastic but its there as a cool concept and it might catch up with dual lens phones in next phones. Google wants to do wonders with just one lens. Super Res Zoom is better than digital zoom standard, but if we compare it with iPhone XS 2x zoom, then it doesn't match the greatness of telephoto lens. The photos with 2X Zoom on iPhone XS look very crisp and sharp than the ones taken on Pixel 3 or Pixel 3 XL.
Motion auto-focus is a handy feature which lets you focus on a moving object while recording a video. You can shoot videos like a Pro without worrying about the subject going out of focus. The focused object remains in the spotlight while shooting videos and it's a handy feature when you are recording your kids running around or playing with a dog.
Google didn't say anything about the notch on Pixel 3 XL, but there are two cameras on front. Both 8MP sensors are good at shooting portraits and super wide-angle selfies. Selfie portrait mode is great, and it has super selfie mode which lets you capture ultra-wide-angle selfies. Google Pixel 3 has the best selfie camera as it takes best selfies than the rest.
Everyone is talking about night sight feature. Google slammed Apple by comparing a night shot on Pixel 3 and iPhone XS in their Pixel 3 hardware event. I'm just blown away by the pictures it can take at night. Night sight will be available soon on all Pixel phones.
Google is still struggling with video on Google Pixel phones. The new Pixel 3 doesn't have 4K 60fps. However, stabilization is exemplary in Google Pixel 3 and Pixel 3 XL. You can record a video with shaky hands, and it feels like it is recorded on a tripod. It's that good.
Verdict
Google is not a hardware company, with the notch on the Pixel 3 XL, it doesn't look good, but it has the best in class camera and software.
The AI and machine learning implementation are great with stock Android on board. If you are going to get Pixel 3, it's either the camera is too good or you like vanilla Android experience like me. Beyond that, there is no significant reason to get this phone.
There are no fancy features like Huawei Mate 20 Pro or Samsung's Galaxy Note 9. Pixel 3 starts from $799 and Pixel 3 Xl starts from $899 on Google Store.