Huawei is one of the very few smartphone manufacturers who make their in-house processors (HiSilicon Kirin). Samsung makes Exynos chips not just for their smartphones but also sell them to other customers like Meizu.
Huawei is the only chipmaker in China who makes and use chips for their smartphones (Huawei and Honor devices). Other brands like Xiaomi, Oppo, Vivo either go for Mediatek or Qualcomm Snapdragon series.
Just like Apple's A series (A12 Bionic latest) and Samsung's Exynos (9810 Latest) Huawei designs its own processors. This allows the manufacturer to optimize their hardware and software equally to get the best performance by interacting with each other. This is why even having a lower CPU clock speed and less RAM Apple can easily beat other Android devices.
Huawei HiSilicon Kirin:
Huawei is a pioneer in telecom and communications sector. Huawei crossed $92 billion in the operating revenue during the year 2017.
In 2004 Huawei established the HiSilicon to make Kirin Soc. Huawei shipped about 173 million smartphones powered by Kirin processor last year alone. Huawei also uses Qualcomm 400 series in their low-range phones but 60 to 70% devices use their homegrown Kirin chips overall and they showed no intention to use Qualcomm chips in their mid and high-end devices.
This is the reason why HiSilicon has become an essential contributor of Huawei's mobile success. The range of HiSilicon processors has expanded over the years, covering not only the flagship products but also the medium range.
Why Huawei doesn't sell their Kirin chipset to other smartphone manufacturers?
Brody Ji is the Senior Product Director of Huawei Consumer Business Group who explained:
"For Huawei, Kirin is not a business but a product or technology that acts as our competitive edge against rival smartphone brands."

Brody Ji (Senior Product Director of Huawei Consumer Business Group)
He also stated that they never treat HiSilicon Kirin as a product but instead as an intellectual property that helps Huawei to give an edge over its competitors. It helps the company to look different from the crowd.
Evolution of HiSilicon Kirin:
To give you a better idea we've summarized the Kirin advancements.
Kirin 910: They've made 28nm SOC which was the first quad-core chip with Mali 450MP4 GPU.
Kirin 920: This was also a 28nm but the first octa-core chip which supports LTE Cat6.
Kirin 930: A 28nm but this time in 64-bit octa-core chip, SIM support of the 'sky pass' function.
Kirin 950: 16nm chip using A72 core architecture with Mali T880 GPU, plus. It supports SIP technology enhance the camera experience.
Kirin 960: 16nm chip to use A73 with Mali-G71.
Kirin 970: A 10nm chip with first artificial intelligence mobile computing platform.
Kirin 980: World's first 7nm chip with a dual-core NPU. (Even Qualcomm Snapdragon 845 is 10nm).
HiSilicon Kirin 980:
Huawei is introducing its flagship device Mate 20 next month. The device is coming with Kirin 980 which is a 5G device with a 7nm manufacturing process. This makes Kirin much faster in performance with better power efficiency.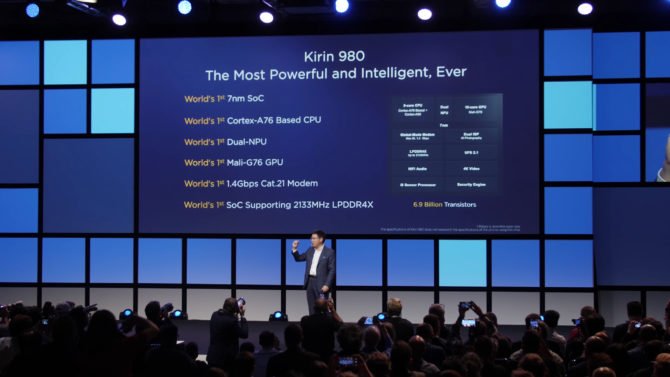 Kirin 980 has two Cortex A76 cores clocked at 2.6GHz and two 1.99GHz Cortex A76 cores backed with four Cortex A55 cores running at 1.8GHz. Huawei made this chip after 33 years of hard work and claims that it's the fastest chip to date.