TikTok has become the number 1 app on the App Store. It also left behind major social networks YouTube, Facebook, Instagram, and Snapchat regarding downloads, regarding monthly downloads.
The music app achieved this milestone for the first time in September. TikTok is a music sharing app that allows creating small clips of users lip-syncing to their favorite songs for those of you who don't know. The app is available for both iOS and Android devices.
According to data from data analytics and statistics firm Sensor Tower, TikTok was the most installed app in the US last month. The apps it overtook were YouTube, Facebook, Snapchat, and Instagram.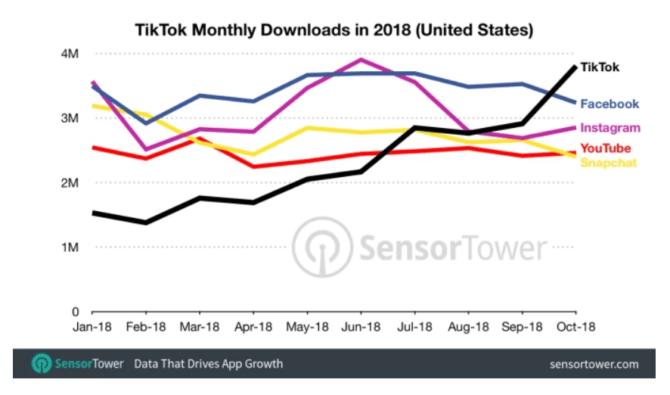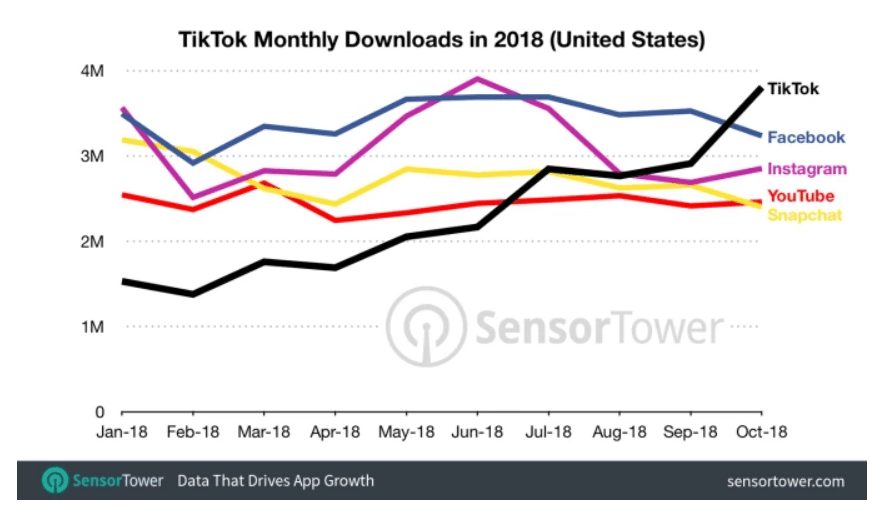 It also surpassed four other apps to become the most downloaded app of 29th September. TikTok had close to 30 percent of the downloads. It has seen rapid growth over the past few days, as the app reached more than 42 percent downloads among these apps on 30th October.
In the month of September TikTok's number of downloads reached a total of 3.81 million including both iOS and Android apps. Facebook came at second with a total combined downloads of 3.53 million. TikTok has seen an exponential rise in popularity.
In October 2017, the app's downloads in the US were up by 237 percent from 1.13 million. ByteDance is the company behind China's top news aggregator service Toutiao. ByteDance decided to buy the social media app Music.ly. ByteDance combined Music.ly with its version of short-video editor TikTok.
It was a pretty calculated move on ByteDance's part as it made it easier for it to dominate the US market. At the time of the deal, Music.ly had 60 million users, most of whom belonged to the US. It was estimated that the deal cost around $800 million to $1 billion.
Even though TikTok completely dominated last month, it still lags behind the other social networks in terms of user engagement. This term is defined as the number of users who open their app daily. Instagram, Snapchat and Youtube all had 95 percent engagement rate while Facebook had 95 percent.
TikTok was far behind this group with just a 29 percent engagement rate.
TikTok has an extremely polarizing effect on people, as they either extremely hate it or love it. The fault isn't even TikTok's own. Videographers can even buy views to make their videos popular on TikTok.
TikTok is a platform for users to try the latest trends or dance moves. 99 percent of the time, these dance moves and trends are extremely obnoxious and annoying. Music.ly had the same effect on people. Well, whatever it is, all news is good news, as they say.
These trends and compilation videos of the craziest TikTok videos only give the app more attention. Anyone who hasn't heard of the app would at least have seen some of these videos. People at least search for the app and download it to try what all the fuss is about.
Other than that, the majority of downloads have come from increasing expenditure on ad campaigns.