Microsoft has just put up a blog post which suggests that screen mirroring could make a comeback. A feature that barely worked at the launch of Windows 10 might be getting a significant overhaul.
While Microsoft has only made the feature accessible to developers right now, it is expected to roll out soon for consumer builds. You just need to be on build 1803 and above. You can check this by right-clicking on your start menu and clicking on System.
Scroll down and look for the Windows Specifications heading and your build number will be mentioned there. The latest build is 1809.
The new feature will probably break away from the original method where you could cast your screen from your smartphone to your PC.
Microsoft has also mentioned on their blog post that the new feature will be exclusive to the Samsung Galaxy S8/S8+ and the Samsung Galaxy S9/S9+. This is a very tiny pool of devices when you consider the massive size of the Android phone ecosystem.
Most importantly, you need to know if your computer will have a compatible Bluetooth radio. You can check by following the steps below:
Right-click on the Start menu and choose Device Manager
Look for your main Bluetooth device
Right-click on it and choose Properties
Click on the Details tab when the new window opens
Look for the drop down box and search for Bluetooth radio supports Low Energy Peripheral
The box below it will have a <true> or <false> value.
If your box shows the <true> value, your computer can work with the new screen mirror method.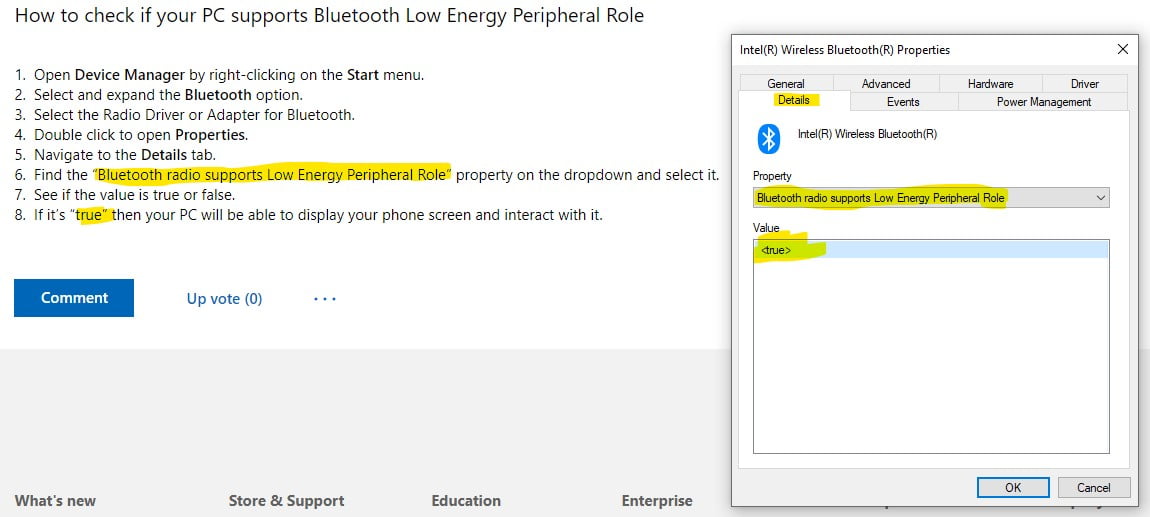 The feature is currently exclusive to a very specific version of Windows 10, and considering the limited pool of devices, there will be only a few people who will be able to test this feature early. It will be a while before this rolls out for consumer builds of Windows 10.
Only time will tell if Microsoft will enlarge the pool of devices gradually, or just make a way for all devices to work with Windows 10.