Samsung is back with their yet another Developer Conference. The venue for this year's Developer Conference is Moscone West, San Francisco, CA. The two-day conference will take place from 7th to 8th November. Samsung's A9 event this month shook us with the 4X fun surprise.
Like every year, Samsung Developer Conference 2018 is going to be jam-packed with exciting activities for its attendees. From the opening Keynote to technical sessions, we can expect a plethora of activities to keep the techies entertained.
The crossroads between the present and the future – Samsung Developer Conference is where you'll meet the knowledge needed to stay on tech's cutting edge. #SDC18
Learn more: https://t.co/t66edOWIUi pic.twitter.com/bDZHuZVWee

— Samsung Mobile (@SamsungMobile) October 18, 2018
Be it IoT or intriguing ideas about Artificial Intelligence; one will get insights from the experts in the field. The cherry on top is, you'll also get to learn SDKs from Samsung's very own engineers. Now, how cool is that (Also, how about asking the engineers about the Note 9 battery incident?).
Further, the attendees will also be able to try the new Samsung products and chat with the makers. The conference provides a perfect opportunity for tech geeks to interact with the brains behind the Samsung innovations.
Apart from Samsung's core team, there are also some other noteworthy speakers we'll get to see at the conference. Tim Sweeney, the founder of Epic Games, Sarah Bond from Xbox/Microsoft, Atule Butt (Mark Zuckerberg's Professor), the director of the Bakar Computational Health Sciences Institute at the University of California and many more are joining us at the conference.
It looks like the whole tech community can't keep calm, have a look at some of the tweets: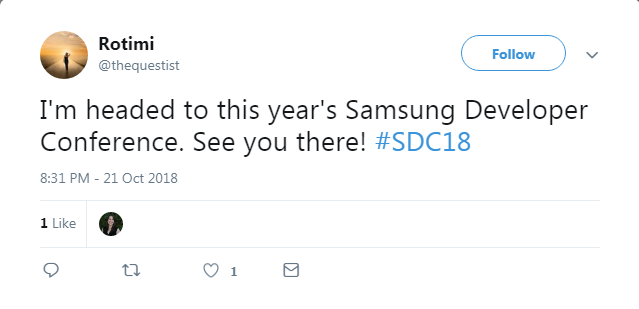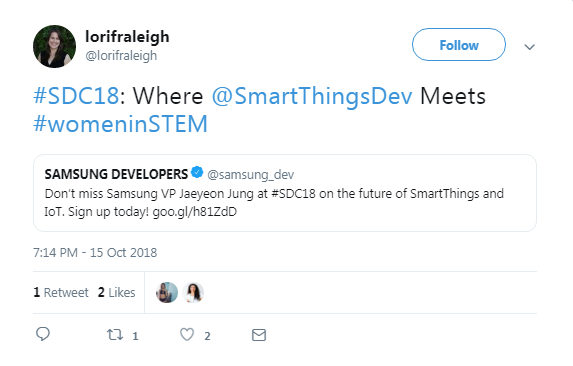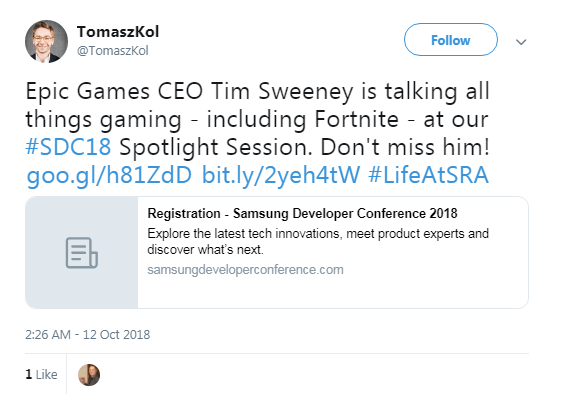 For the first day of the conference, there's an exciting session lined up called "What's new in SmartThings platform?". Will the session be as interesting as it sounds? Well, come on it's Samsung we are talking about!
Another session worth looking forward to is the one on digitalization and consumerization of healthcare. Carl Wahlstrand from Medtronic PLC will be one of the speakers for this session. And for those of you who want to know how brains at Samsung see the fourth industrial revolution, the session by Heekwan Lee, the Principal Engineer at Samsung Electronics, is not to be missed.
In a nutshell, this year's SDC looks promising. And who knows we may also get to hear more about Samsung's foldable phone here!
If you are a sucker for gadgets and want to go on a 'tech-ation' for 2 days, then trust me, you don't wanna miss this.