It seems like the premium tablet-PC market has gotten a new challenger. Samsung Electronics today announced the new Notebook 9 Pen, a premium 2-in-1 PC with a built-in S Pen. Samsung says it will allow users to "reach their true creative potential."
The upgraded Notebook 9 Pen will be available in Korea from December 14 and will be soon made available to other countries including the US, China, Brazil, and Hong Kong starting in early 2019.
Samsung believes this product will offer both flexibility and performance as the device will adapt to their work style. If more power is needed, then it is a perfect device to "get more high-quality work done."
YoungGyoo Choi, Senior Vice President and Head of the PC Business Team, Mobile Communications Business at Samsung Electronics said,
"Choice and creativity go hand in hand, and those who create deserve the flexibility to work the way they want, wherever inspiration strikes."
Choi further added,
"With improved design and performance, along with our Notebook's most advanced S Pen yet, the new Notebook 9 Pen is perfect for contemporary professionals who put especially high demands on their technology."
The Notebook 9 comes in two new colors, vibrant Ocean Blue and pristine Platinum White, both of which make it stand out from the rest of the tablet-PC hybrids you find in the market. Personally, the Ocean Blue looks eye-catching and classy. It perfectly fits the Samsung theme ecosystem.
Samsung is marketing the S-Pen as the device's best feature it seems. We are not sure if it's as powerful as the new Apple Pencil that works with the new iPad Pro 2018. Samsung says that using the S-Pen with the Notebook 9 Pen will feel like a breeze. Using the S-Pen, users will be able to quickly scribble down notes, make doodles or drawing and even control the PC.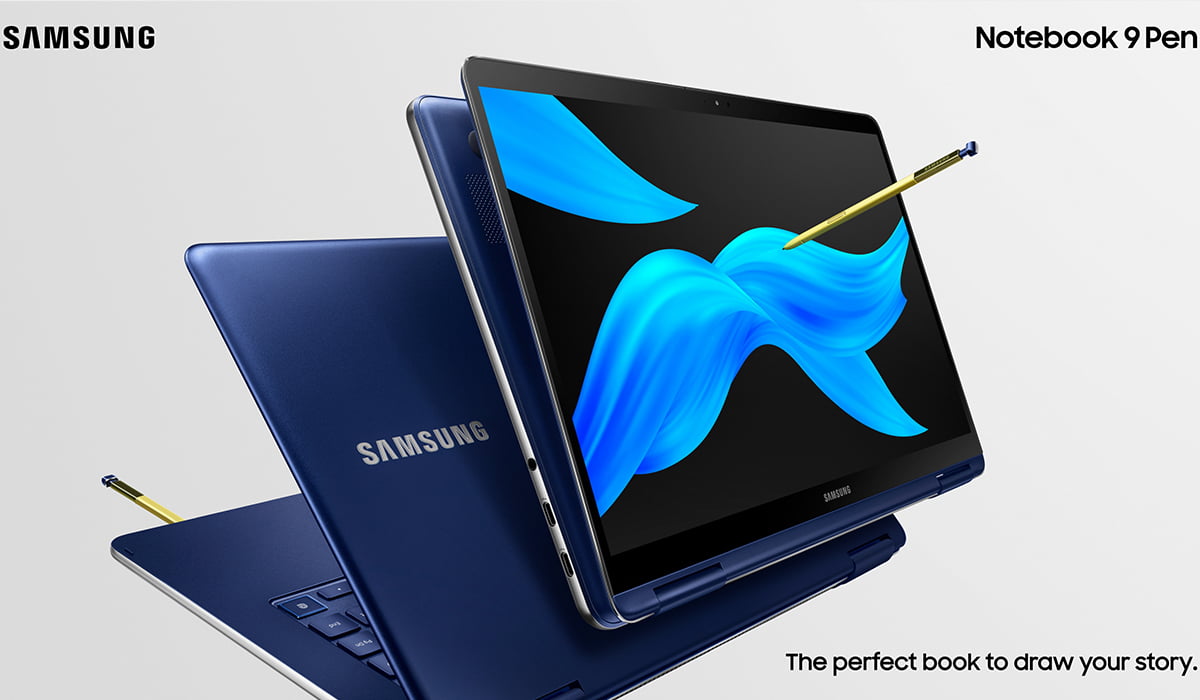 The company claims the pen will be two times responsive as the previous model. Samsung says it will feel like putting pen to a paper. S-Pen will let users swap in their choice of three different pen tips to get the drawing feel they prefer.
The accessory doesn't need to be charged and can be stored directly into the PC, making it as convenient as humanly possible.
Notebook 9 is built with an all metal and aluminum frame which makes the device stand out from the rest of its competitors. It gives it a premium look and feel that only a few devices can match. Despite being built out of pure metal, it is still quite portable.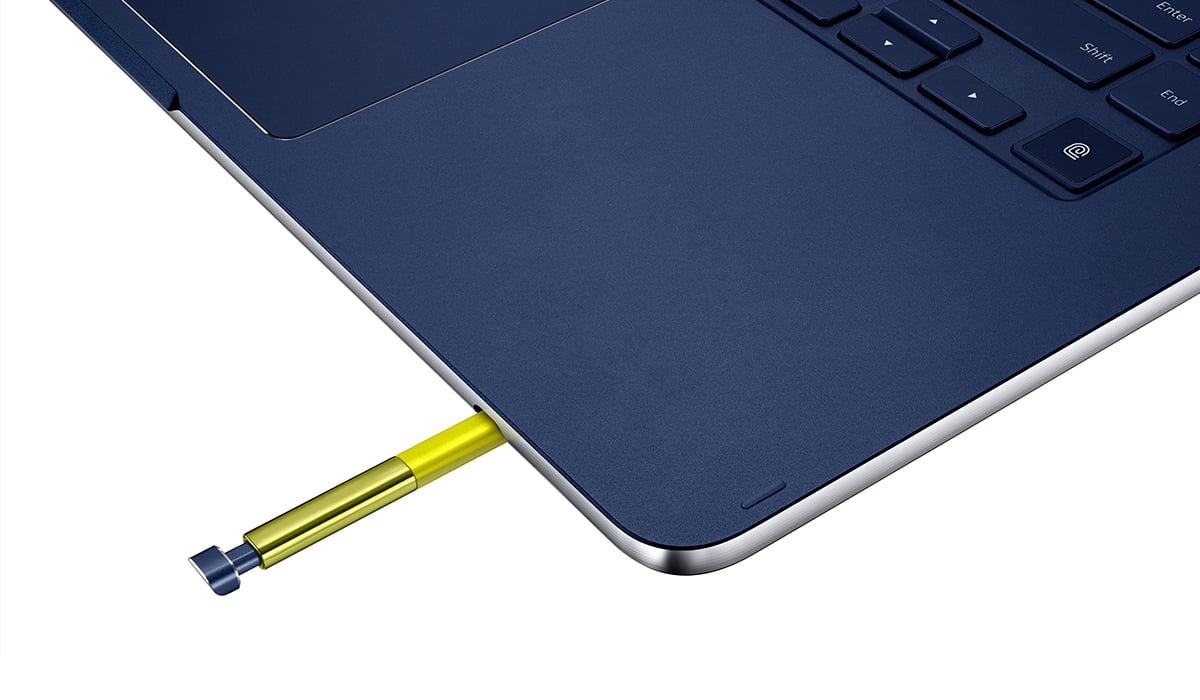 Samsung calls it the edge-to-edge diamond cut metal finish. Notebook 9 will not be limited to just looks; it will offer great performance as well. It will have the latest 8th Generation Intel® Core™ i7 processors and will quickly unlock the device using either ones, face or fingerprint.
It also offers fast charging that at maximum capacity will give users 15 hours of backup. Notebook 9 Pen will provide a lot of versatility and fast connectivity thanks to its expandable storage, two Thunderbolt 3 ports, and the latest Gigabit WiFi support.
The display offers even thinner bezels than its previous model. Thin bezels are all the craze right now and for a good reason. They offer more immersion and full-screen visual experience. The display offers beautifully vibrant colors and good brightness levels. All these features make it a pretty solid choice, for video editors, graphic designers, and artists.
According to Samsung, these features are needed by these professionals to do their best work. If one is a music editor, a DJ or works with music, in general, the AKG tuned speakers are a perfect solution. Even if one wants to use these speakers just for watching a movie or listening to music, they will have an equally good time.
The AKG tuned speakers offer clear, pristine, studio-quality sound. The speakers should be able to get plenty loud as they are powered by the new ThunderAmp smart amplifier technology. Users can increase the volume to its max without worrying about blowing the speakers. Each speaker has 5-watt power.
It is available in two screen sizes 13-inch and 15-inch. The 13-inch model will be perfect for people who travel frequently and want something portable without sacrificing performance.
The 15-inch model will be useful for individuals who do not travel as much, yet still, want to own a workstation that comes with great performance and a big screen.