The Chinese manufacturer OnePlus is going to unveil its next flagship OnePlus 6T in just two weeks. According to the rumors, it will be the first OnePlus device to have an integrated on-screen fingerprint reader. The images we have, show that the phone has a 6.41-inch  screen with water drop notch.
Let's discuss in detail!
OnePlus 6T rumors:
As expected, the OnePlus 6T will be "just" an incremental upgrade, according to the OnePlus tradition. The display is likely to have 2340 x 1080 pixels and OLED panel. The major change this time is the fingerprint reader which is now on the screen instead of the back like its predecessor.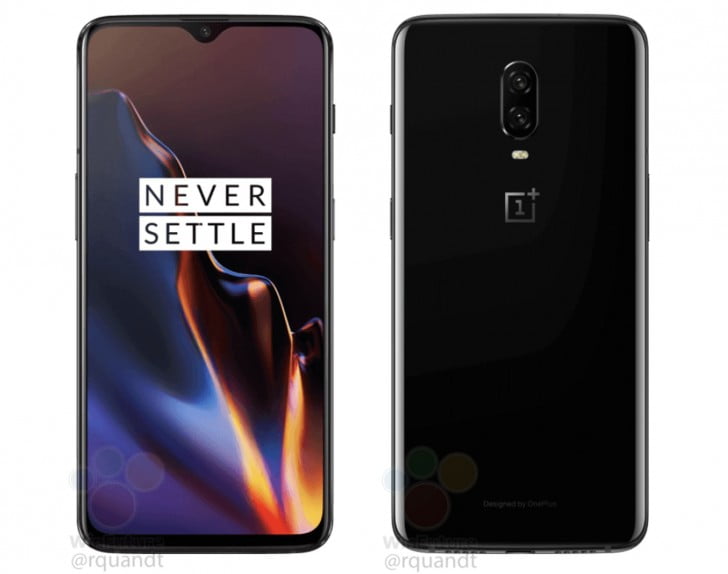 Visually, the OnePlus 6T changes are not that obvious because it has the same color scheme at the back of the glass; Black and Midnight Black.
A new rumor says that there's a dedicated night mode within the camera app of OnePlus 6T, which will be great for low-light shots at night. This information came from OnePlus representative, so it's official.
It is noticeable, however, that OnePlus no longer relies on a large "notch" in the 6T, but instead changes the design to a "waterdrop" notch, in which only the front camera is accommodated. The upper front speaker is now above the camera.
No Headphone jack in OnePlus6T:
OnePlus 6T holds the same 3700mAh battery. This is a huge bummer for OnePLus fans because by removing the 3.5mm headphone jack, we thought that we might have around 4000mAh but that's not the case here. Again, these are all rumors what we could gather from the internet and other sources. We wish that we don't get the same battery as OnePlus6.
OnePlus didn't go for triple camera setup like we have seen these days. We expect this in their next flagship. The position of the dual LED flash changes minimally because there's no fingerprint reader on the back this time. The phone comes with Android 9.0 "Pie" with Oxygen OS on top.
Like all other flagships this year, OnePlus6T also has Qualcomm Snapdragon 845. The processor clocked at usual 2.8 GHz with the combination of 8 GB of RAM unlike Mi Mix 3's 10GB. No firm information on internal memory but we could expect a base model of 64GB and 128 GB variant.
The company has confirmed that they're hosting an official launch for the OnePlus 6T in New York on October 30th, 2018.