In an announcement, Microsoft pushed the 'artificial intelligence war' further by introducing new Bing with ChatGPT features. The company is calling it 'copilot for the web.'
The new Bing comes with an advanced OpenAI's ChatGPT, "Prometheus Model." The company is also looking to integrate ChatGPT with Office apps and Visual Studio, according to some reports, where it'll be completing lines of code and summarizing meetings. That could lead to a potential redemption of Clippy assistant that we miss.
The event started with Microsoft CEO, Satya Nadella saying,
"It's a new day in search."
New Bing chat lets you not only have AI-powered search results but also get the conversation going with advanced chat features.
In an interview with WSJ, Satya Nadella talks about the new Bing and the search landscape saying,
"Bing with AI is gonna completely change what people can expect from search."

Satya Nadella to WSJ
He also adds,
"I feel like the new race is starting with a completely new platform technology. I'm excited for the users to have choice finally and a real competitive race out there."
The new Bing comes with an even more powerful ChatGPT and is also integrated with Microsoft Edge, one of the best Chrome alternatives. But, can it save Microsoft from the horrible UI/UX and unnecessary features that they offer? Guess we'll have to wait and see.
What's new in Bing?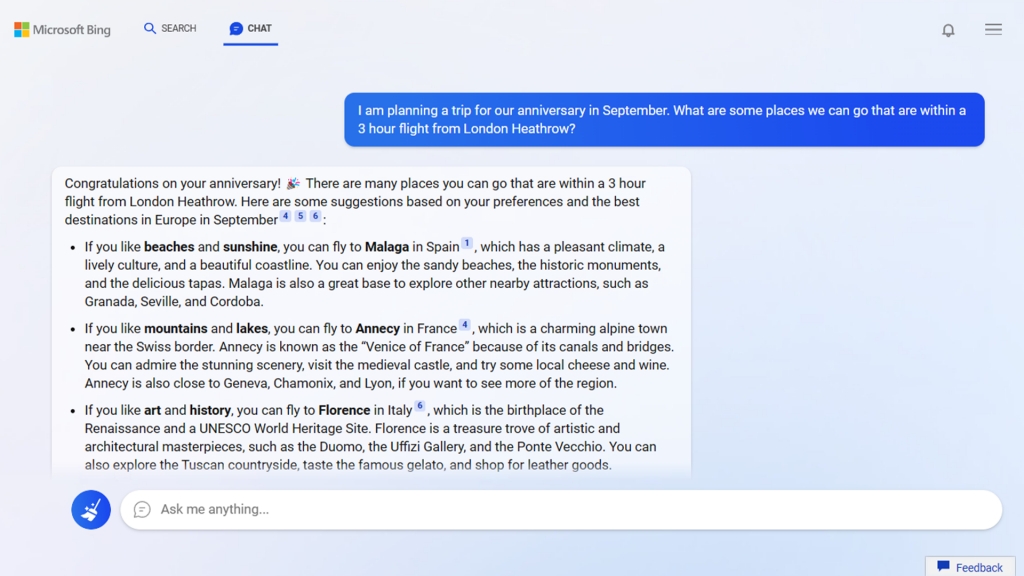 The new Bing comes with several attributes of ChatGPT, with the chat as the most highlighted one. Here are the complete features listed on the Microsoft blog:
Better search: An improved version of Bing with relevant search results like sports scores, stock prices, weather, and other information, including a sidebar that'll show chat features for more comprehensive answers.
Complete answers: Bing summarizes results after analyzing multiple answers from the web. For example, you can get detailed instructions for how to substitute eggs for another ingredient in a cake you are baking right at that moment, without scrolling through multiple results.
A new chat experience: For more complex searches – such as for planning a detailed trip itinerary or researching what TV to buy – the new Bing offers new, interactive chat. The chat experience empowers you to refine your search until you get the complete answer you are looking for by asking for more details, clarity, and ideas – with links available so you can immediately act on your decisions.
A creative spark: There are times when you need more than an answer – you need inspiration. The new Bing can generate content to help you. It can help you write an email, create a 5-day itinerary for a dream vacation to Hawaii, with links to book your travel and accommodations, prep for a job interview, or create a quiz for trivia night. The new Bing also cites all its sources, so you're able to see links to the web content it references.
New Microsoft Edge experience: We've updated the Edge browser with new AI capabilities and a new look, and we've added two new functionalities: Chat and compose. With the Edge Sidebar, you can ask for a summary of a lengthy financial report to get the key takeaways – and then use the chat function to ask for a comparison to a competing company's financials and automatically put it in a table. You can also ask Edge to help you compose content, such as a LinkedIn post, by giving it a few prompts to get you started. After that, you can ask it to help you update the tone, format, and length of the post. Edge can understand the web page you're on and adapts accordingly.
This update came right after Google's BARD announcement, a ChatGPT alternative for Google Search. It's still in an early phase, however, Bing's integration with ChatGPT might forever change how search works.
You can join the waitlist for new Bing by visiting bing.com/new. To get access faster, just set all Microsoft apps as defaults.