Microsoft Outlook stores all the mailbox data in OST, which is an offline data file. This file keeps all the mailbox data on local storage that helps users to work even when offline. Sometimes, this Outlook offline data file gets corrupted or turned inaccessible/orphaned. Also, a situation may arise when you need to move from one email profile to another profile. In such situations, you need to convert the OST file into Personal Storage Table (PST) file format. This is because OST file is linked to the profile in which it is created and cannot be directly imported into another profile.
This is where an OST to PST converter software, like Stellar Converter for OST, comes into the picture. This is a useful software for users who are looking to convert their OST files into PST as well as different formats, such as MSG, EML, RTF, PDF, and HTML. The software is brimmed with features and claims to be the best to convert OST files. So, we test the software to see if it delivers what it claims. Check out our detailed review of the software.
Installation of Stellar Converter for OST
The software is light on system and does not require any high-end hardware specifications. However, to install and run it, the system must meet some minimum specifications, which are as follows:
Memory: 4 GB minimum, but we recommend 8 GB
Operating System: Windows 11, 10, 8.1, 8, 7
Processor: Intel-compatible for both x86 and x64
Hard Disk: 250 MB for installation files
We downloaded the Stellar Converter for OST tool free from its official website. It took around a few seconds for us to download it as the application file is around 22 MB.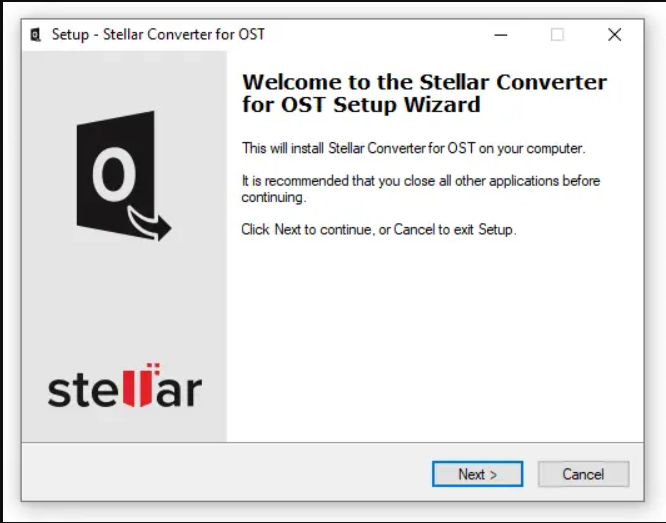 Figure 2: Installation Wizard
The installation of the software was very easy. We did it really quickly. The credit goes to the Installation Wizard. All we had to do was read the instructions presented to us and press the "Next" buttons. After selecting the default installation location, the installation was finished.
The User Interface
After installation, we launched the software. Right from the start, the software talked business. It asked to choose the OST files to convert. The entire process was quite straightforward. All we had to do was follow the instructions to complete the conversion process.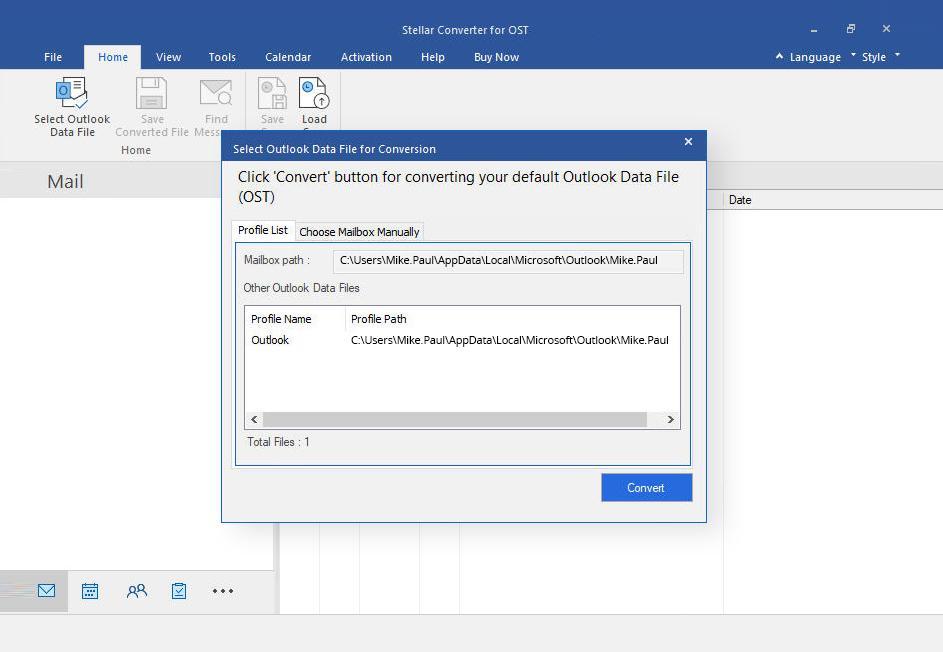 Figure 3: The first look
Overall, the user interface was clean and had that sophisticated feel throughout. It had everything that we required right in front of us. Most of the functions were straightforward and did not require any technical prowess.
Activating the Software
Before converting any files, we had the chance to activate the software. All we had to do was to click on the "Activation" tab present on the menu bar and provide the activation key and press the "Activate" button. If you do not have the activation key, you can always get it by pressing the "Get it now" button.
Software Editions
The software is available in three editions – Corporate, Technician, and Toolkit.
Corporate Version
It can convert offline OST files to PST files. It supports conversion of up to 5 mailboxes. It costs $79 for one year.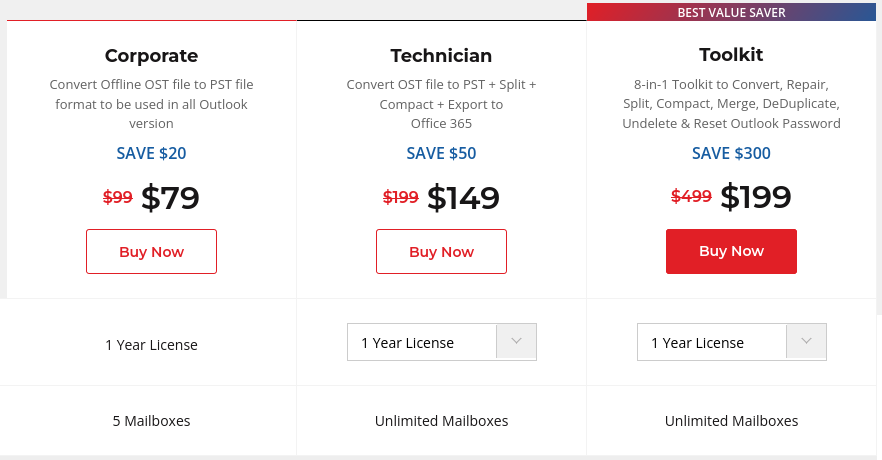 Figure 4: Different Editions of the Software
Technician Version
It can convert OST files to PST, split and compress resultant PST files, and export OST data to Microsoft 365 (formally Office 365) as well as live Exchange Server. It allows you to convert an infinite number of mailboxes and can even batch-convert multiple OST files into PST all at once. It costs $149 for a year and $249 for lifetime license.
Toolkit Version
It is an 8-in-1 software package for converting OST to PST, repairing Outlook data files, splitting huge PST files, compressing large PST files, merging numerous data files, removing replicates from Outlook data files, and resetting forgotten Outlook passwords. It costs $199 a year and $299 for lifetime license.
Features of Stellar Converter for OST
The software has a plethora of features that make it way more useful than any other software present in the market. Some of these features are:
Multiple File Saving Options
After converting the OST file, the program allows to save the data in PST, MSG, EML, RTF, HTML, and PDF formats.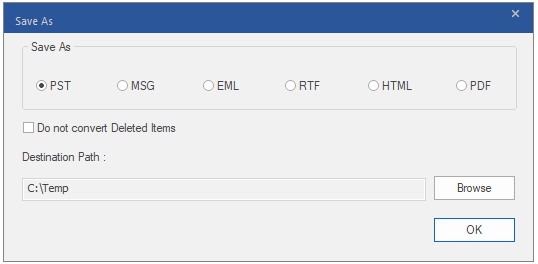 Figure 5: Multiple Saving Options
Filtering Option
It allows you to filter emails based on certain criteria. You may filter the emails by Date, From, To, Subject, Type, Attachment, and so on. The software has extensive filters for including/excluding messages from the Junk Email and Deleted Items folders. While saving mail items after conversion to a new PST, Live Exchange, or Microsoft 365, users may additionally exclude emails from a particular email ID or group of email IDs.
Encrypted File Conversion
This software can convert encrypted OST files. There is also no file size restriction. With this utility, you can simply convert large OST files.
Retrieve Deleted Emails
Stellar Converter for OST allows you to recover and convert deleted emails. You may use this tool to retrieve essential emails that you have mistakenly deleted.
Option to Resume the Process
It allows you to save the scanned data from the OST file in a DAT file and resume the operation later without having to scan the file again.
Preview Emails before Saving
It displays the converted data in a three-page arrangement. You may see the whole OST file contents before converting to PST format.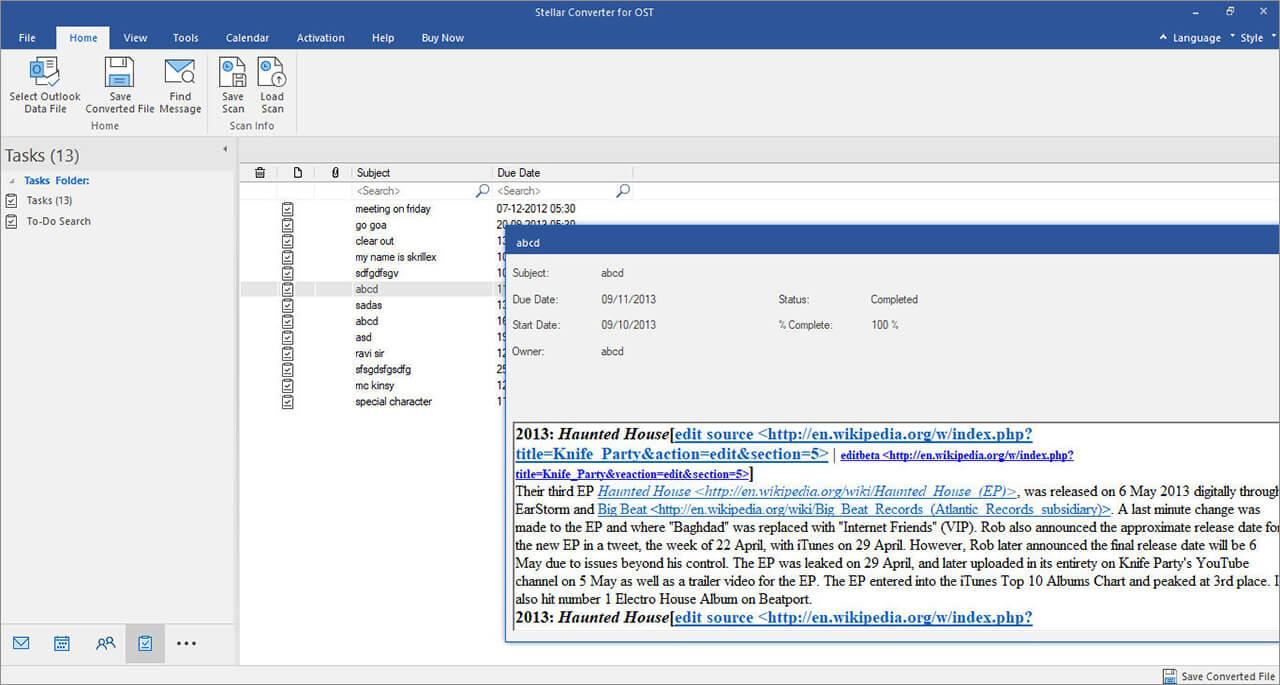 Figure 6: File preview
PST File Compression and Splitting
With the Stellar Converter for OST Technician version, you can compress and split large PST files. There is also no need to install Outlook to do this procedure.
Bulk Conversion
The software can convert several OST files into PST in a single conversion cycle. This feature is only available in Technician version.
Save Contacts in CSV File
There is a distinct option in this OST to PST converter tool for storing contacts in CSV format.
Final Verdict
Stellar Converter for OST is a convenient and reliable OST to PST converter tool. It is really quick and simple to use. The software is not completely free. The free edition allows you to check most of the software's functions but limits you to save just ten items within a folder.
Premium editions, on the other hand, provide you access to all of the software's features and functions. Stellar Converter for OST works on almost every Windows operating system. Overall, it is a very useful tool for converting orphaned OST to PST file. You may start using the free (demo) edition to gain a feel for the app's functionality before upgrading to one of their premium plans for an enhanced professional user experience, whatever your plan of choice.