The beta was available only for developers since June, and it takes almost three months to get in the most exceptional stage for the public. During Apple event this month, Apple confirmed that the new OS would be scheduled from 17th September.
Mac OS is not behind, and Apple will roll out the update of Mojave on 24th September.
iOS 12 update availability:
iOS 12 is packed with lots of features, but first, we'll talk about the devices receiving this exciting update. Hereunder list of them all: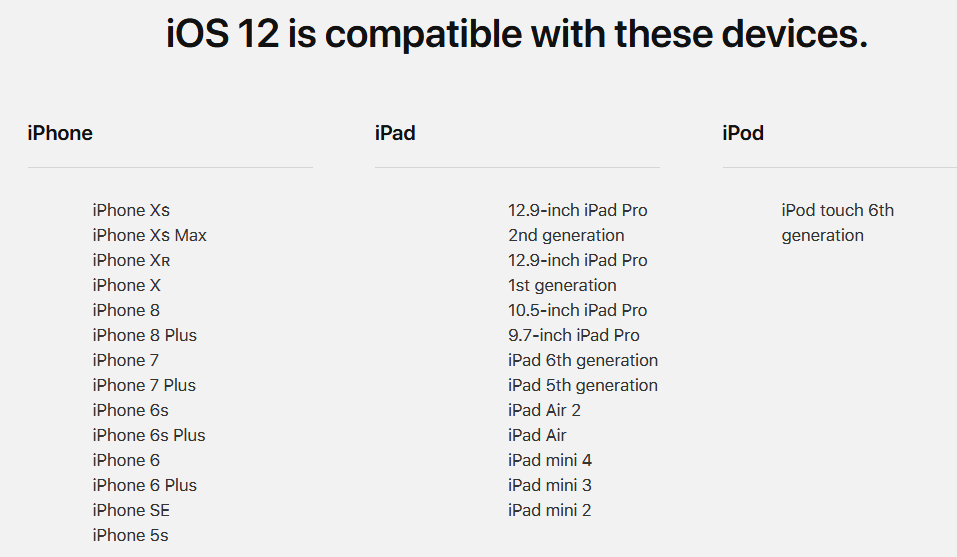 Unlike Android, Apple always makes sure that their older devices do not fall behind. iOS 12 is compatible with iPhone 5S (2013) and iPhone 6 (2014).
Both devices are almost 4 to 5 years old. Android (Google Pixel) release new OS updates for maximum two years old phone and security patches, not more than three years. Even though Apple halted the production of iPhone 6S, SE, and iPhone X, these devices are receiving iOS 12 updates as well.
To get the iOS update go to Settings ==> General ==> Software Update and follow the instructions. It's better to take backup through iTunes just in case before updating your device.
iOS 12 features:
The main focus of iOS 12 is on performance and app launches. Apple claims that you'll get 70% swipe to camera feature, 50% faster keyboard display and 2x faster app launch under heavy use. Therefore, it has the potential to be a significant update for the old devices.
Siri Shortcut: A new feature is Siri Shortcuts for iOS applications through which Apple's virtual assistant can now record your routine consisting of multiple actions. The new shortcuts application allows you to define your to simplify everyday tasks.
Apple Maps: In iOS 12, Apple brings excellent improvements to Apple Maps. Apple spent years working on a massive project to replace all of its third-party map information with its super-high-resolution data, along with tools to make map changes much more quickly and features to incorporate entirely from millions of iPhone users.
Grouped Notifications: You also get more options for managing notifications. And the iOS notifications are finally grouped by the app. Android users have this feature for years.
Other noteworthy features of iOS 12:
Screen Time
Memoji
New gestures on iPad
Improved battery use info
Better password management
Improvements to the Photos app
Portrait Mode improvements
Do Not Disturb at Bedtime
Augmented reality, Measure app, and many more.
There are more than 30 new features in the new iOS 12. To summarize these features, you can have a look at the below video:
Apple watchOS 5:
Apple watchOS 5 is compatible with the following series:
Apple Watch Series 1
Apple Watch Series 2
Apple Watch Series 3
Apple Watch Series 4
Sadly, Apple watchOS 5 is not compatible with the first-generation of Apple Watches.
If you're the owner of the Apple watch, there's a possibility that you may receive an update today. OS 5 comes with automatic workout detection, Yoga and Hiking workouts, podcasts, etc. It also comes with a builtin Walkie-Talkie app which lets you communicate with other Apple watch owner.
Below are the features you'll get after updating your Apple watch:
Siri watch face improvements
New watch faces
Background audio from third-party apps
Grouped notifications
Siri raise-to-speak (For Apple watch 3rd and 4th Gen only)
You can watch the functionality of each feature here:
We'd also like to add that to update your Apple watch; you have to pair your Apple Watch with your iPhone. Then, go to Settings ==> General ==> Software Update. It will take a while to update; it is suggested to keep your watch on charging till the update completes.
To update watchOS 5, you should have at least iPhone 5s or later with iOS 12.
tvOS 12:

The update supports Dolby Atmos audio for movies on iTunes and other apps. Dolby Atmos audio provides quality sound that makes your movie watching experience all the more amazing.
tvOS 12 update only rolls out for the 4thgeneration and 4K Apple TVs.