Just when we thought "the Elon Musk Twitter saga" was over, Tesla CEO throws the SEC another curveball. It seems like he isn't done with the U.S. Securities and Exchange Commission, rather is engaged in a Twitter battle with it.
Musk took a jab at SEC, by tweeting quite a funny yet somewhat petty statement:
"Just want to that the Shortseller Enrichment Commission is doing incredible work. And the name change is so on point!"
The tweet was sent on Thursday at 1:16 Pacific Time.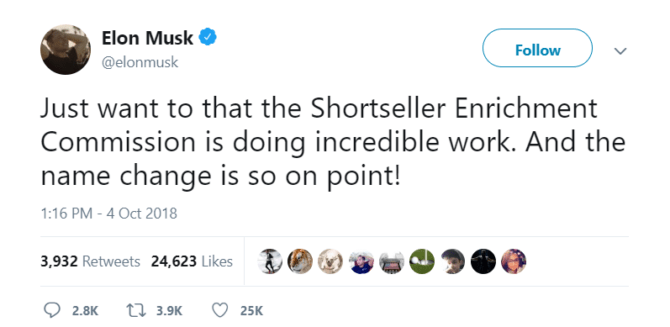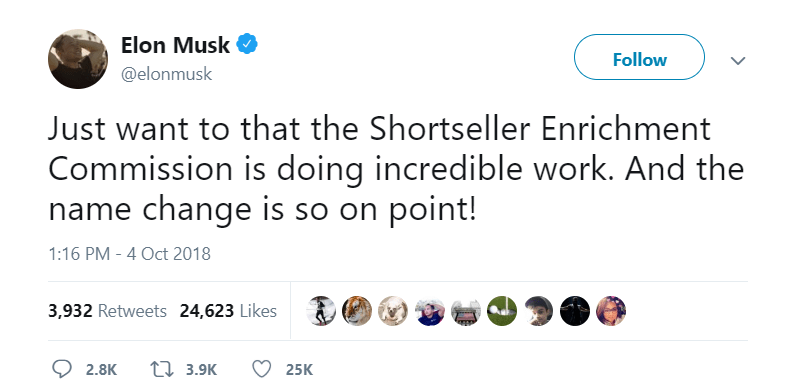 The joke is that the SEC is a greedy, money hungry organization that just wants to fill their own pockets, in the name of justice. To his credit, this was a pretty clever take on the SEC abbreviation.
Musk sent another tweet. This time he tweeted:
"Sorry about the typo. That was unforgivable. Why would they be upset about their mission? That's what they do."
Even Musk's most diehard supporters had become fed up of his childish antics. They were concerned that the eccentric billionaire's irrational habits would cost them their lifesavings. They did not appreciate the tweets as they feared he greatly hurt the stocks.
Musk answered these concerns with a very half-assed approach. He gave them reassurances, but without backing his claims with any proof or evidence.




This was some kind of revenge that was obviously fueled by resentment over the Commission's decision.
SEC had decided on 29th September that Musk and Tesla had to pay $20 million fine each, because of Musk manipulating the stock market via his tweets.
The SEC wanted to restrict Musk's communication on Twitter and have an overall control over his actions. In order to appease SEC's wishes, Tesla agreed to bring on two independent directors to its board.
Ultimately SEC forcing Musk to step down as chairman, hurt his ego, which is probably why Musk got into a tussle with the SEC. Furthermore, Tesla's board of directors would oversee how Musk communicates on Twitter which restricts Musk's freedom of speech.
But despite all these penalties and restrictions, the SEC could have taken more severe actions against him. Firstly, Musk still got to retain his CEO title. Secondly, Musk did not have to admit to any wrongdoing, i.e., he didn't have to admit or deny the SEC's allegations.
SEC's main concern was that the South African had lied about receiving private funding for a takeover due to which he decided to buy back each share for $420. This was illegal and led to securities fraud.
Also Read: Tesla CEO Elon Musk to step down because of mounting pressure from SEC
Federal securities lawyers sub-opened Tesla just one week after the tweet. The company was officially charged just 6 weeks later.
So clearly Musk was guilty, and he was rightfully punished for his actions. He knew what he was doing and instead of being mature about the SEC's decision he posted such snide tweets.
For both Tesla's and his own sake, Musk should just delete his twitter account, and focus on the numerous projects he is working on. This is to prevent another Twitter battle with the SEC.