The newest interesting occurrence in the Twitter-verse has left users looking for an explanation. A scammer hijacked various verified Twitter accounts to run promoted tweets mostly asking for money for scam schemes.
However, what makes the spectacle truly hilarious is that the scammer is using pictures and resemblance of Tesla's CEO Elon Musk to sell the schemes. Hence the result is a verified Elon Musk luring normal Twitter users into suspicious schemes.
Film distributor Pathe UK and US Publisher Pantheon Books have been part of the victim accounts. Several of these accounts have since been recovered and the tweets deleted.
The Pathe UK Twitter account was hacked this morning by an unknown third party. A series of unauthorised tweets were sent for which we apologise. The issue has now been resolved and we have taken back control of our account.

— Pathé UK (@patheuk) November 5, 2018
The Scam
An especially notable promoted tweet in the series read: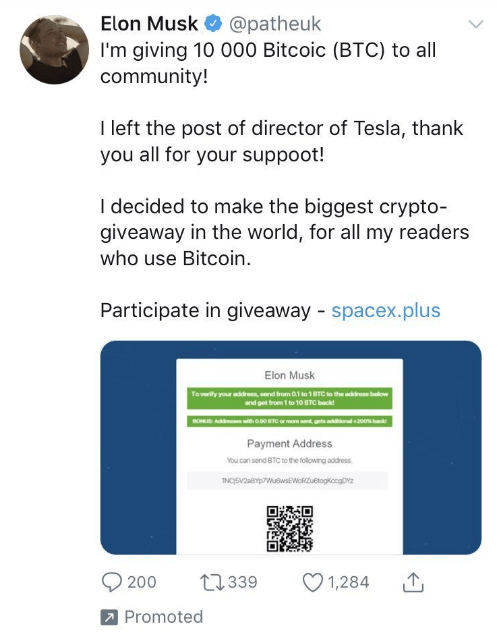 The hijacking scammers had been very smart in putting up the name and profile picture of Elon Musk as well as acquiring a 'verified' blue tick. At first glance, the promoted tweet might even appear legit to some. The first catch, however, was the @patheuk instead of the original @elonmusk beside the tick. Another spoof was the various spelling mistakes like 'bitcoic' and 'suppoot.' The signature giveaway of scams, asking for money, is also here. The whole package asked users to submit a few Bitcoin to earn more in the end.
Clicking on the scams prompts the users to give anywhere from 0.1 to 1 Bitcoin to get 10 Bitcoin in return. The users do not get any Bitcoin.
Reinforcement
The next ingenious step was to hack more accounts with the signature blue tick of Twitter. These accounts then took part in the Elon Musk scam by tweeting how the 'giveaway' was already working for them. These hacked verified accounts offered live commentary on how the apparent scam was legit and working. These included verified accounts of blogger Sarah Scoop, Swansea City AFC Ladies and boxer Rayton Okwiri.
However, this situation had reached its true climax when the real Elon Musk was suspended from his account for a brief time for mocking the fake account.
He tweeted 'wanna buy some bitcoin?' with winky faced emojis and a Bitcoin cartoon as a joke.
Wanna buy some Bitcoin? 😉😉 pic.twitter.com/9ZbBJ5fuVq

— Elon Musk (@elonmusk) October 22, 2018
Twitter was not laughing. This was in response to the scams in place since March 2018. These fakes of the past, however, only used Musk's name and likeness. The hacked verified accounts have entered the game only recently.
The Twitter spokesperson has defended the platform by saying:
"We have substantially improved how we tackle crypto-currency scams on the platform. In recent weeks, user impressions have fallen by a multiple of 10 as we continue to invest in more proactive tools to detect spammy and malicious activity."