My love of writing goes well beyond composing stories and writing tech news – I actually love the action of writing words and literally putting pen to paper.
If you're anything like me, you might have stacks of notebooks around your house (and if you're even more like me, many of them are empty but available "just in case").
Over the last few weeks, as my online writing has taken more and more of my time, I've been looking for ways to get back to handwriting at least some of my notes. Since last summer, I've invested in both low- and high-tech solutions, from ordering the Cloth & Paper subscription box that gives customers a range of paper and pens each month to encourage their writing to getting a new iPad and Apple Pencil in order to turn my notes into something readable online.
Most of my notes have to end up in an electronic format somehow (since I travel and need access to information without lugging around extra paper). This makes pen and paper a bit difficult since photographing notes requires me to wade through my iPhone photos – not an easy task if you're trying to conserve your phone battery on-the-go (or if you take a lot of pics).
And while I love the iPad and Apple Pencil, for whatever reason, they draw a lot of attention in public, with strangers often interrupting me to ask about the tech. I normally love talking to people about technology, but it's not always feasible to interrupt my work – especially if I'm on a deadline – to tell people what I'm using. I also travel alone quite a bit and advertising that I have a valuable device isn't always something I'm eager to do.
Enter the Rocketbook. Last week I purchased the Rocketbook Everlast on a whim. It's a notebook with pages that feel like paper, but which are actually made of a polyester composite that you can erase with a damp cloth. Of course, you need to use a specific pen with it (the Pilot FriXions), but one came with my order and others are available for just a few dollars if you want more colors.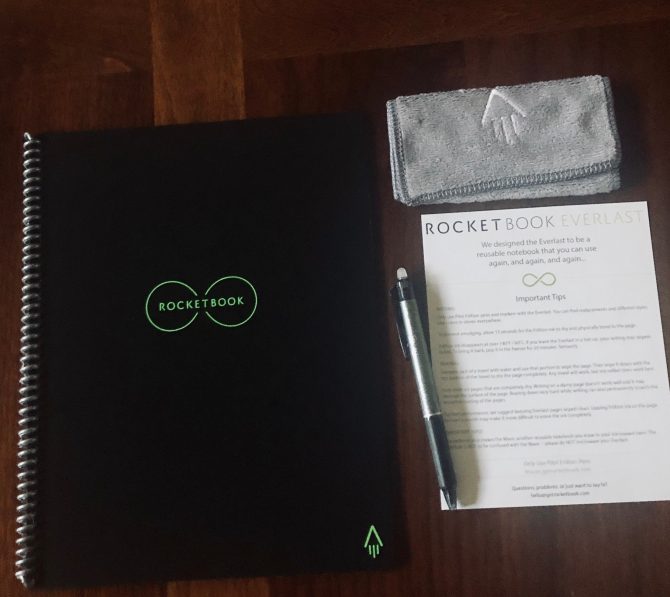 Just a warning, the Rocketbook doesn't come with instructions for getting the pen to click open and I ended up like this fellow PhD trying to get it to work.
I had heard of Rocketbook a year or so ago when they were making notebooks that were erasable by putting them in the microwave, but something about nuking my notes didn't appeal to me. The new Everlast is a much better option since you can pretty much use any damp cloth to erase your notes when you're done.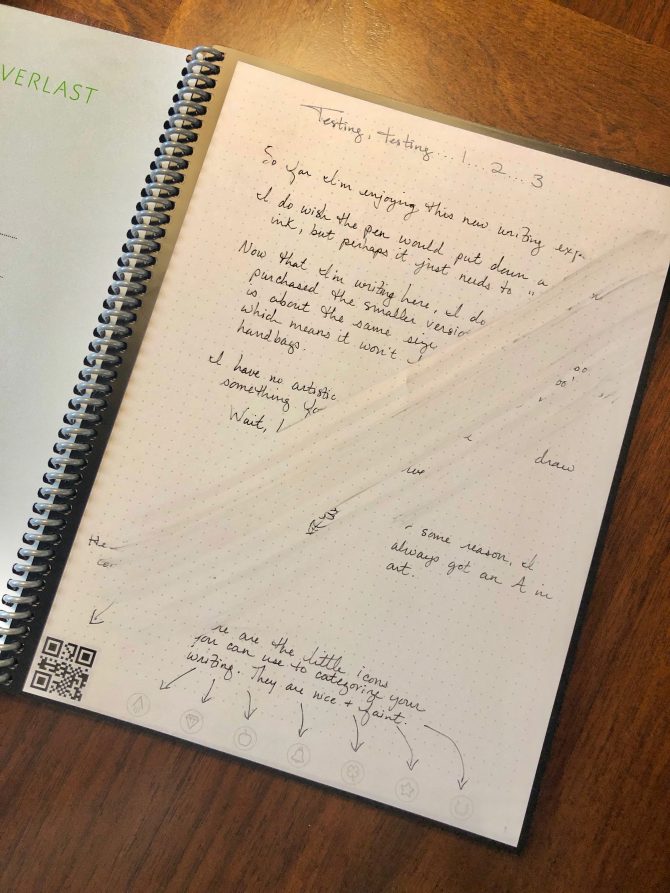 The best thing about the Everlast is that it doesn't just allow you to talk photos of your notes, but has a filing system built in to organize them. Each page of the notebook has a QR code at the bottom corner that allows you to snap a pic with the Everlast app and file away your notes in the right place. That means I can keep my to-do lists separate from my writing and interview notes easily. And the photos render in a way that doesn't even require you to center your photo – take a look: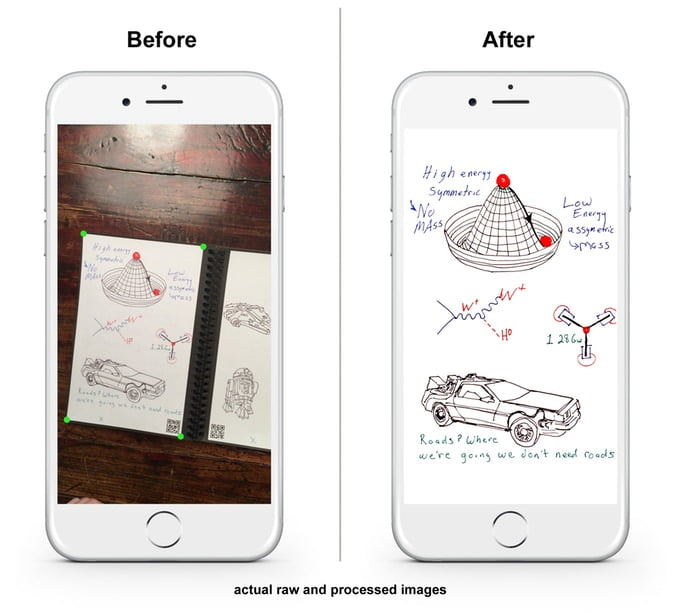 But that's not the extent of its organizational capacity. Each page (of which there are 32, meaning 16 sheets of "paper") also has seven small icons at the bottom which you can assign a category or destination. Just marking the icons with the pen will mark put it in a pre-assigned folder in Google Drive, Dropbox, Evernote, Box, OneNote, Slack, iCloud, or your email – whatever it is you use to store your documents. It will store as a PDF or JPG, depending on your preference.
Since it's really a pen and paper notebook with extra capabilities, you can write or draw anything you want on the page. The instructions say the ink takes about 15 seconds to set to prevent smudging, so this may be a problem if you're left-handed. Each page has a dot grid pattern to help you keep you color inside the lines, so to speak, but the dots are very faint and don't interfere with the writing experience if you don't need to use them.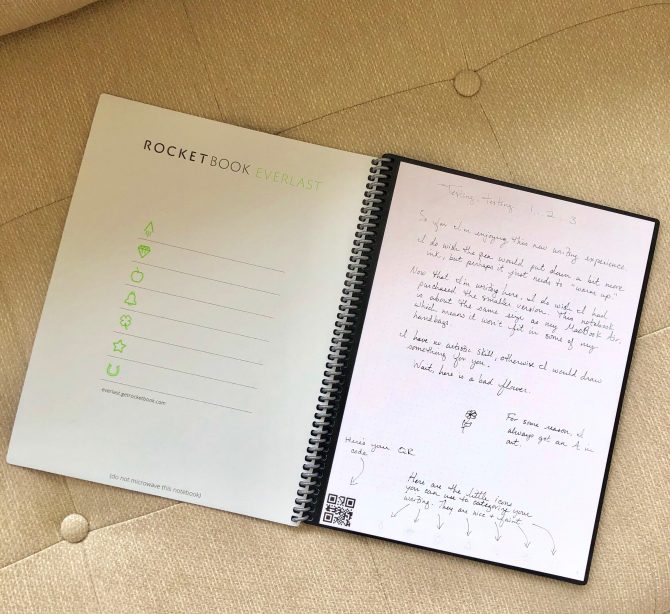 While I ordered the letter size notebook that measures 8.5 x 11" and cost $34, I plan to go buy the other two sizes as well (which, of course, will not help solve my problem of piles of notebooks lying around the house). There is a mini version the measures 3.5 x 5.5" with 48 pages (24 sheets) that costs $16, and an executive size that's 6 x 8.8" with 36 pages (13 sheets) for $32. All of them come with one fine-tipped pen with black ink. Your choice will depend on how much space you have in your bag or briefcase and how much you need to be able to get on one single page.
By far the best part of these notebooks is the fact that they are infinitely reusable. I haven't had mine long enough to know if the pages develop weak spots after excessive rubbing, but that doesn't seem to come up in online reviews of the product.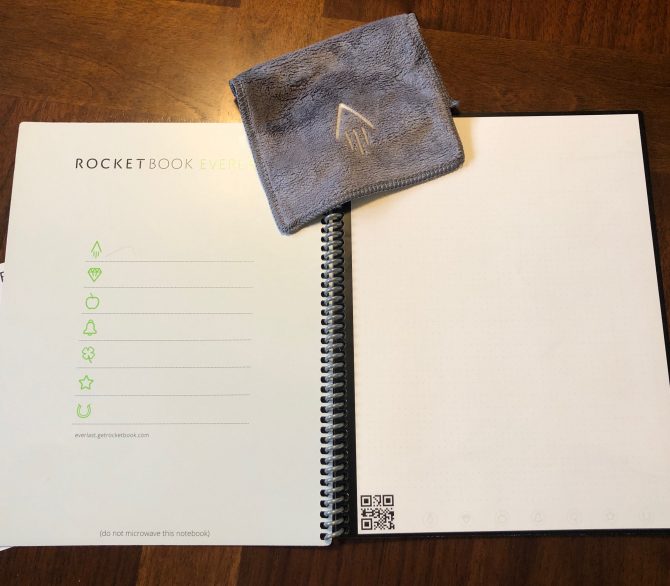 If you're looking for a writing solution that is sustainable, these reusable notebooks are a great deal. Rocketbooks aren't the only reusable notebooks on the market either – Moleskine and Elfinbook both make competing smart notebooks that are worth checking out.
No products, discounts or other compensation were provided in exchange for this review. The product was purchased by the reviewer who has no relationship with any of the companies mentioned in this review and all opinions belong to the reviewer.