There is currently a serious bug on the Android version of WhatsApp. If you are a beta tester in the Play Store, we highly recommend avoiding updating your WhatsApp. I can confirm that the bug has affected my phone and I have lost all media from chats – that's months worth of media for some conversations.
A follow-up update restored my media to some extent, but for some lengthy conversations, my earliest media only goes back to October of 2018, even though I have sent that contact a plethora of images, videos, and more since then.
In addition, I am unable to view any status prior to the update. They all show as blank or black screens.
Again, if you are currently in the Beta Update program for WhatsApp on Android, we HIGHLY recommend against updating to it on your phone until this is fixed. If you can opt out of the Beta channel too, it would be the best course of action for the moment as well.
For many of my chats, I have lost months worth of media files including videos, pictures, GIFs, and PDF files.
This is what conversations look like after the update: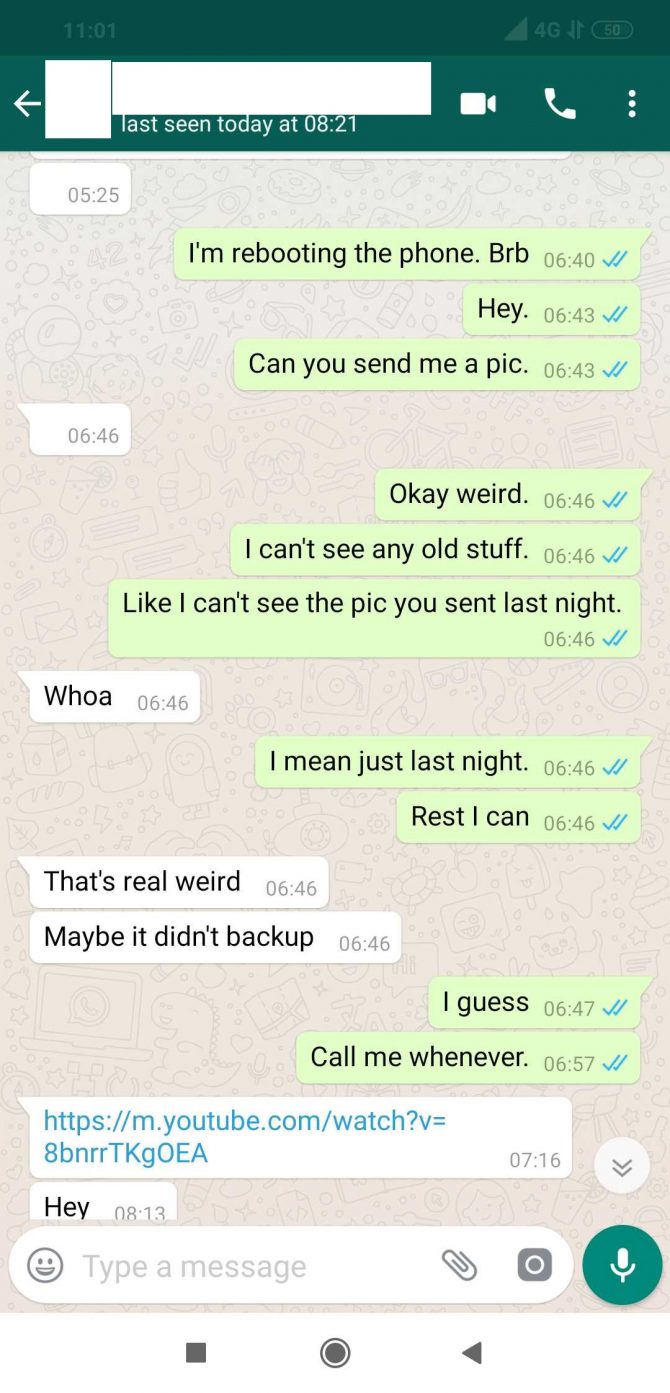 The blank spaces at 5:25 and 6:46 were images sent to me by a friend. My reply at 6:46 "I can't see any old stuff" referred to me not being able to see any photos at all. Even after a phone reboot.
The last version of WhatsApp Beta that is available on APK Mirror is for 2.19.65. I believe that versions 2.19.66 and 2.19.67 are the culprits. Version 66 erased my 5:25 message and didn't let me see any media with the same contact. I was still able to see the image at 6:46 while on 66. The follow-up update (which is 67) deleted the 6:46 image, but allowed me to see October 2018 with the same contact.
There has been one report so far on Reddit (r/Android) to corroborate the update causing this issue.
While this is only for people who are on the Beta program of WhatsApp on the Google Play Store, we still advise caution when updating.
If you have been affected by the bug, let us know in the comments section whether you're on iOS or Android and if you are part of the Beta program.
We don't know whether or not WhatsApp is aware of the issue. We have reached out to them for comment and will update the post if we hear back from them.
While it is understandable that bugs are expected when in the Beta channel of an app, this is quite the serious bug which WhatsApp has potentially released to millions of Android devices in the Beta program. We hope that WhatsApp releases an update to fix this promptly.