Google launched one of its mainstream apps last year with a simple design and stylistic components to help people manage the most important functions of their phones – data usage. The app is known as Datally and the whole idea is to have a roadmap of where your data is being used and when do you need to cut down on the usage. You can see your activities as well as suggested Wi-F networks that are available nearby so that you can connect to the best option. Moreover, you have the timings to show when your data was used up.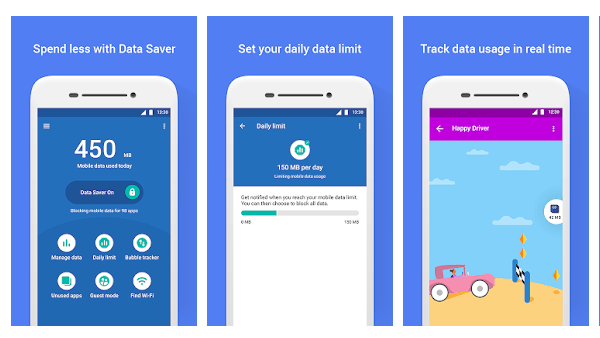 The application shows you a big button that lets you turn off the background data so that only the actively used app onscreen is consuming your precious bites. In Addition to this, a chat-head like a bubble keeps popping up to warn you about the data usage of your currently-used function. If you wish to keep the background apps running, you can also find a whole breakup in Datally where you can close certain apps and let the other ones keep running.
"A bunch of us on the team spent a lot of time on long flights observing people in their homes, bus stations, classrooms, and kept seeing this airplane mode behaviour," Josh Woodward, the product manager overseeing Datally, told.
What's new for us?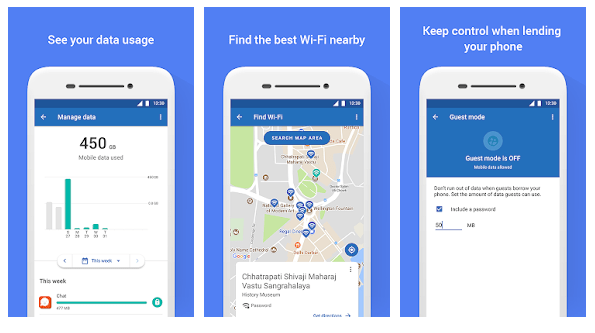 Yesterday, Google has updated Datally to enhance its data-saving and add more to its functionality. You can now control your valuable data from being sneaked out. Wonderful, isn't it? No more thefts to grab your treasured data without your permission! You can simply choose a ceiling after which the data will stop being used automatically. You can also set daily usage limit for yourself so that you don't run out of the data package before the month has even reached its middle, especially if you are on a budget. Once it rings the warning, you would know you need to stop snapchatting.

Datally now shows the map of nearby Wi-Fi networks too, helping you find the best and the nearest alternative that you can connect your phone to. You are saved on the hassle of every single free WiFi being shown nearby by your phone.
Cut data use
Google claims that Datally can cut your internet usage by 30%. It is ideal for those who are living without an unlimited plan and it is especially hand for the residents of the countries where internet is supposed to be very costly. Android users may not find this technology very impressive because most of these are already available within Android. The whole idea of standalone alone is, however, to reflect the importance of cutting data and setting a reminder to get the attention of the user. Moreover, these features are hidden in the Android setting menus and are rarely spelled out.
If you are unlimited on data, you, of course, don't need Datally but the energy being used by the background applications is still a feature you can benefit from. However, keep in mind that you will be missing oN the push notifications that this multi-tasking feature provides you with!