Did you just experience an interruption during your video streaming and saw nothing but a blank web page with "500 Internal Server Error" mocking right at your face? Well, don't worry.
You are not the only one who went through this. YouTube outage took the internet by storm!
YouTube reportedly went through the longest outage in years!
On Tuesday around 6:15, Pacific time, YouTube went down worldwide for many users. The users reported seeing a "500 Internal Server Error" on their screens instead of YouTube. For a major site like YouTube, an outage that lasted for more than an hour is quite notable.
However, YouTube management was well aware of the issue and did their best to fix it as soon as possible.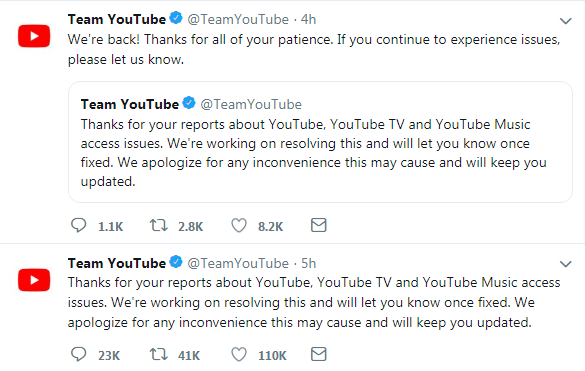 As soon as people started to notice the YouTube outage, YouTube came up with its status update tweets. It kept the users informed about the site's comeback. This somehow controlled the expected chaos that would have been created if YouTube had not taken twitter to keep everyone in the loop.
YouTube not only took over Twitter to update its followers but also went for a constructive feedback to resolve the issue.
However, this is not the first time that YouTube experienced an outage. But, it is the longest one for sure. Previously, YouTube went down in April during World-cup but that was only for a short span of time as compared to this one. Literally speaking, this time YouTube tried the patience of many with an outage that lasted for more than an hour.
YouTube gave no significant explanation over this issue. Nobody knows why the site went down for this long. Well, after an hour of struggle, YouTube is back online and is thanking you all for the patience you kept during this outage! You can now go and surf your favorite streaming site once again!
Happy streaming for now guys!