Good news for all the game geeks out there! Acer just launched Predator Thronos; a gaming chair.
The company unveiled a series of incredible gaming gadgets at its press conference in Berlin this Wednesday, out of which Predator Thronos is some next-level accessory. The chair could revolutionize how we play games and is so unique that we can't contain this ripple of excitement.
Why not check other best gaming chairs that you might love as well. For chair covers, check this awesome collection too.
So let's head straight to what we know about it so far.
What does it look-like?
Predator Thronos is made up of steel. It's 1.5 meters tall and has a hosting cabin that can recline up to 140 degrees. Its overhead embrace can fit three 27-inch monitors in front of your face and is capable of hosting an entire Predator gaming PC.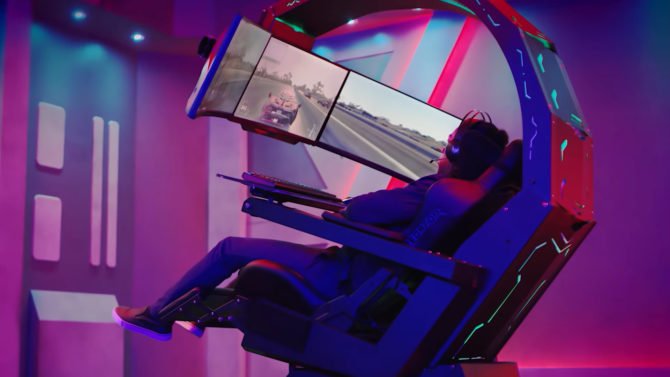 Predator Thronos is not just a chair. It is more like a small gaming cabin you can hop into and feel entirely in control of, straight out of your favorite sci-fi movie, right? Hardcore video gamers will be getting goosebumps after reading this.
And the chair won't hurt your butt, as this one has a set of buttons lined up significantly to make you all cozy. You also get a footrest Predator Thronos is very comfy; take our word for it. Finally, to give you the complete feel of a Sci-Fi movie, the chair responds to your moves as it vibrates while you play.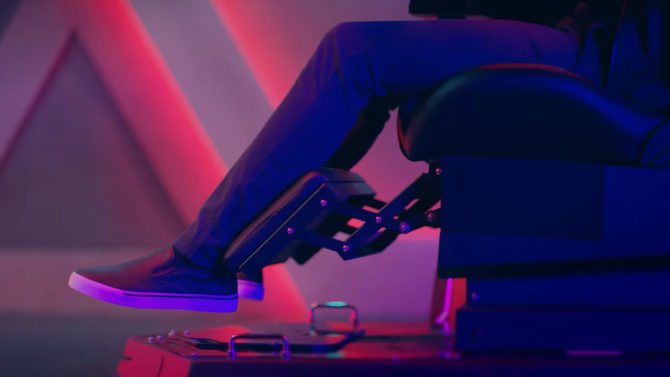 However, the games you play are controlled through a mainstream keyboard and a mouse. It's a bummer because paddles and hand breaks (in short, complete motorization) made it unbeatable in our fulfilling gaming fantasy.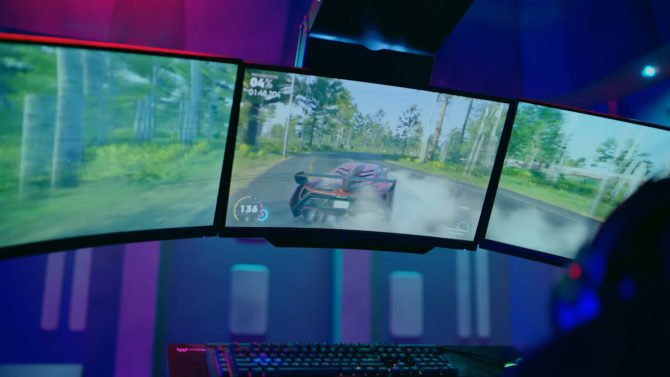 If you are thinking about the monitors that will be compatible with the system, look no further; Acer also released a bunch of 27-inch gaming monitors that can be used with the Predator Thronos.
Key features
The system has a 3840x 2160 pixel resolution which is good enough for exquisite visuals. But then again, that depends on the type of computer you are using it with.
Its IPS panel offers a wide game gamut (90% of the DCI-P3 color space). Further, the chair is also VESA DisplayHDR 400 certified. Thronos also offers Nvidia's G-Sync tech that prevents screen tearing.
Moreover, Acer has equipped it with its VisionCare software suite, ensuring that nothing stops you from long gaming sessions.
Acer Nitro XV273K Monitor
To go perfectly with the gaming chair, Acer introduced the Nitro XV273K monitor. The monitor delivers extremely high refresh rates with breath-taking resolution. As the company says, the visuals reflect 'true-to-life' colors in 4K Ultra High Definition (UHD) for a complete gaming experience.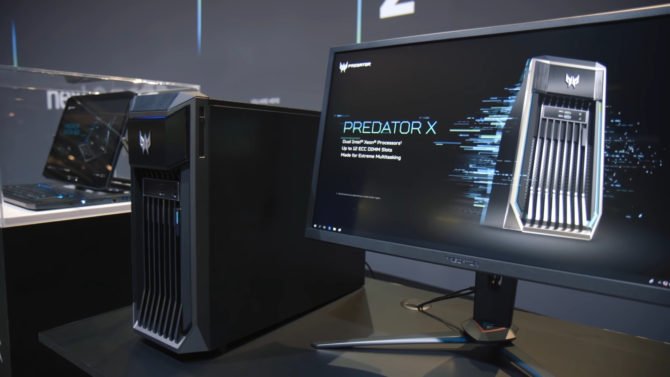 Moreover, it syncs with PC's graphics cards, ensuring dynamic refresh rates that minimize lag. The monitor is also equipped with Integrated Visual Response Boost™ (VRB). This is important as it decreases the blur between fast-moving images.
Its six-axis color adjustment lets you tune color, hue, and saturation as you like. You can also choose from 11 black-level options to optimize visual advantage. Even better, the monitor has three configurations to adjust brightness and efficiency. The three configurations are:
Nitro XV273K P (IPS, 27" UHD 144Hz, DCI-P3 90% WCG)
Nitro XV272U P (IPS, 27" WQHD 144Hz, DCI-P3 95% WCG)
Nitro XF272U P (TN, 27" WQHD 144Hz, DCI-P3 90% WCG)
Price and release date
Acer has not yet revealed the price and release date for Thronos. However, given that three 27-inch monitors are required to complete the system, it's apparent how hefty this one will be in your pocket. Moreover, the VisionCare suite you'd want to pair it with will cost you about $900 if you're thinking about Nitro XV273K.
What do we think about it?
For starters, Thronos feels like a gaming dream come true; it's an entire space with high-tech equipment surrounding you and responding to your moves. In addition, its high-end protection and level of comfort delving you entirely into another world enhances the user experience.
Guess you are as excited for Thronos as we then start saving up. Trust us; you'll need it!