It seems like Tesla is about to broaden its audience by offering even more options to its fans. Tesla is set to release a mid-range Tesla battery version of its popular 3 Model. It will cost $45,000 before tax incentives.
The cheaper version of the Tesla 3 Model was announced via Twitter by the company's CEO Elon Musk. It will still offer a pretty impressive 260 miles per single battery charge. Tesla fans can already preorder the car from its website and will be soon available for orders in Canada.
The mid-range Model 3 will have a top speed of 125 miles per hour and a 0 to 60 acceleration time of 5.6 seconds.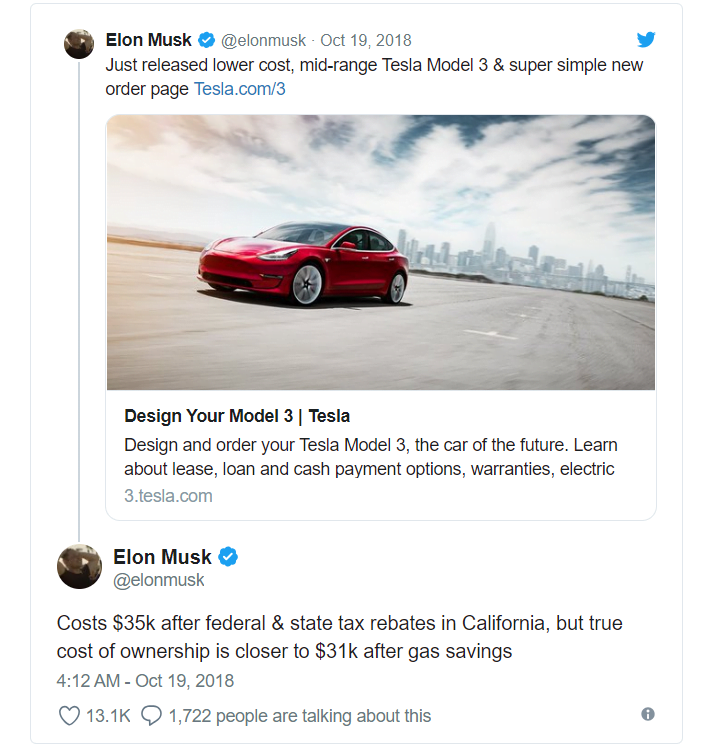 The electric car will go for $35000 after tax rebates in the state of California. The full $7500 tax incentive can be taken if the vehicle is ordered before 31st December 2018. The order can take 6 to 10 weeks to be fulfilled which isn't too bad for a waiting time to be honest.
Customers who place the order in mid to late October or early November can still get the full tax rebate. In early 2018 the company was able to reach its 200, 000th sale which is quite an achievement for a company that is still pretty young.
Also Read: Tesla set to open Gigafactory 3 in China
After all the first Tesla car went for sale just 10 years ago. This timeframe is extremely short when it comes to the automobile industry. In order for an automobile industry to offer tax incentives, it must have at least 200, 000 sales.
Therefore customers should place their orders by October or November. The tax cuts are valid on the purchase of Tesla S, Tesla 3 or Tesla X models.
Musk did explain that the battery had a big capacity despite having fewer cells. He said the non-cell part of the battery pack still needed some readjustments. Musk reassured that these readjustments can be made right now instead of having to wait for Friday.
This mid-range battery variant of Model 3 is cheaper than the original long-range dual-motor Model 3 version and the performance versions. But it is still not the version that the customers were promised.
The $35,000 version will have a basic battery pack but will have a different overall mechanism. Customers will have to wait for the car another four to six months.
A Tesla spokesperson said in an email, "As Model 3 production and sales continue to grow rapidly, we've achieved a steady volume in manufacturing capacity, allowing us to diversify our product offering to even more customers."
He further added,
"Our new Mid-Range Battery is being introduced this week in the U.S. and Canada to better meet the varying range needs of many customers eager to own Model 3, and our delivery estimate for customers who have ordered the Standard Battery is 4-6 months."
This is a brave new world for Tesla as it is trying to hard to appeal to a wider audience by offering its electric vehicles at competitive prices.
Despite offering such great value, Tesla faces stiff competition from car industry giants such as Mercedes, BMW, and Audi. All three of these companies offer great cars in the sub $50,000 price range.
Mercedes has the C class, Audi has its A4 model and BMW has the extremely popular 3 series. Where Tesla outperforms these car manufacturers is in terms of technology and environment friendliness.
Users will also be able to save a ton on fuel costs alone. Given where we are headed as a society, all these factors are good for the environment and will help reduce global warming and carbon emissions.
Regardless, Tesla fans should not miss this opportunity.