It is a major update that's been released after a long time. The reason for infrequent updates is not having enough resources to work with.
Director of product Jeremy Tillman remarked that since they now have more resources they can focus freely on enhancing their mobile browser experience. This was possible due to Ghostery's acquisition by Cliqz, a German browser firm.
Since the buyout, Ghostery 8 was the major update for desktop computers. Privacy was the key area in the update. Their next mission was to bring over the same features to smartphone devices.
Also Read: Firefox makers are working on "Scout" – A voice-controlled web browser
Tillman stated that their goal was to develop a browser that is able to compete with Google Chrome without compromising on quality.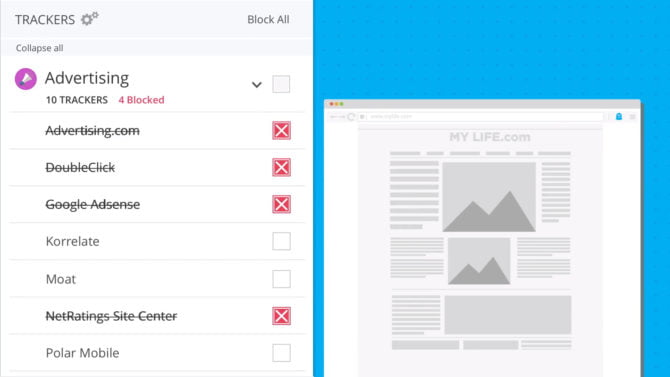 So in order to achieve these goals, the browsers main features are:
The ability to block ads by category.
Built-in ad blocker
Ghostery's own privacy-focused search engine
The ability to block ads by category is a pretty unique feature. It tracks any sort of ad tracking script. It also blocks adult advertisements. Site analytics are turned on by default to constantly track the progress of the website so as to further minimize such nuisances.
Ghostery's search engine is built on Cliqz's algorithms and it doesn't track the user's personal data. Users will still have the option to switch over to other search engines.
As if this wasn't enough, the Android version of Ghostery will have even more features. Smart block option to enhance page loading times and AI-powered anti-tracking should satisfy most Android users' browsing needs.
Ghostery's home-page looks very clean. It shows users highlights of their frequently visited websites and even presents the latest news stories.
Tillman was quite happy with the update and believed that it would provide users with "a cleaner, faster, safer mobile browsing experience." He was optimistic about Ghostery's future. He mentioned that their goal is to secure the internet in every aspect of the user's interaction with it.
Everyone at Ghostery is trying to negotiate for a better Internet experience for consumers, by providing a safer and more secure option. The company is also aiming to become more involved in finding alternate solutions to the advertisement for creators.
This update has come at just the right time as many big Internet companies such as Google and Facebook have been open to public scrutiny for their data laws. Privacy has been an issue for a long time especially since Facebook's leaked users' information to political consultancy firm Cambridge Analytica.
Tillman was quoted as saying,
Our goal isn't to, say, topple Google and Facebook, but to provide that alternative to those that want it — both for content creators but also for users themselves.
For anyone who isn't familiar with Ghostery, their motto is to provide safer, faster and smarter browsing. The extension was created by David Cancel and was later acquired by Evidon in 2010. Famous whistle-blower Edward Snowden was one of the first advocates of Ghostery.
Snowden recommended using Ghostery to protect online privacy.
So if Snowden can recommend it, I think we all can get behind this amazing organization.