Soon, Neutrogena will let users 3D print their own face masks. This new tech will be introduced in a few days at the annual Consumer Electronics Show (CES) in Las Vegas.  Neutrogena will be enhancing its existing Skin 360 tool to make this possible. The Skin360 app was introduced last year to scan an individual's face and assess their skin condition and moisture levels.
The company will now design custom face masks through a new iOS app called MaskiD. The Skin360 device isn't necessary to use the new MaskiD app but, according to Neutrogena, using Skin360 will provide a more accurate analysis of users' skin.
The new app uses the TrueDepth camera introduced in last year's iPhone X, XS, and XR to take 3D images of users' faces. Every mask will be tailor-made to fit an individual's face. For example, the mouth opening and eye slots will match up exactly, eliminating the need to constantly adjust one's face mask.
The company will offer five ingredient options in their new masks: N-Acetylglucosamine, feverfew, stabilized Vitamin C, niacinamide, and purified hyaluronic acid. The mask will cover six areas of the face. These areas include the forehead, eyes, cheeks, nose, chin, and chin-to-cheek lines. Users can choose the ingredients based on their unique needs.
https://www.youtube.com/watch?time_continue=1&v=pT8NVRViy5M
For example, if a user has dry skin, they can use stabilized Vitamin C in the dry region of their face. The masks are currently colored to show different zones of the face, though this might change in future releases once the face masks are released on a wider scale.
Skin360 offers a deep analysis of a person's skin. Users can use the device to monitor their skin's moisture levels and lines on a deeper level to assess if the mask improving their skin. The company hasn't announced an official price yet but says it will go on sale in the third quarter of the year.
Cosmetic companies are increasingly integrating new technology into their products. We already got a glimpse of shampoos and hair conditioners that addressed users' specific hair needs during last year's CES. Skin360 will also help users narrow down the thousands of products sold by Neutrogena and offer product suggestions.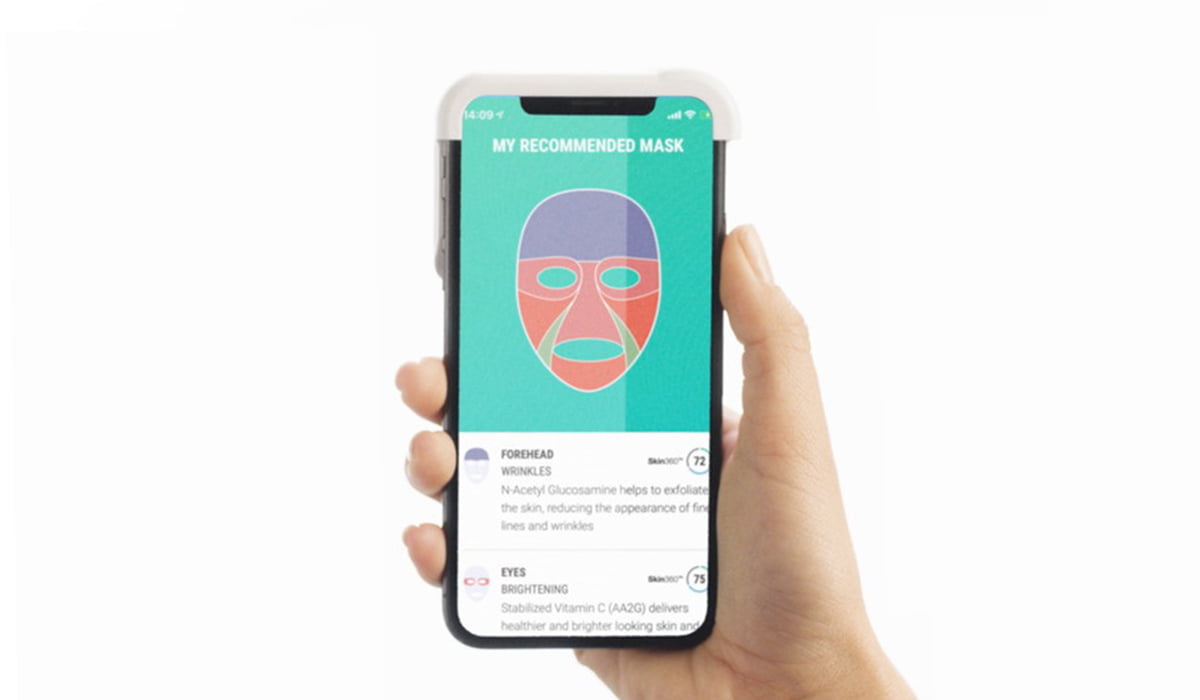 Skin360 also makes users feel in control of their skin's health and is a great option for users who take their beauty products seriously.
According to Michael Southall, research director and global lead of beauty tech at Neutrogena, the company wants to utilize artificial intelligence to observe when skin is transforming and give suggestions based on the skin's condition.
But first, the company will need to gather vast amounts of user data to train AI to respond to various scenarios. Neutrogena will gather this data via apps like Skin360 and MaskiD. The company will encrypt users' data and 3D photos of their faces, but will still use the data to train its AI. This will be important for users to think about before they use the app and it will be important to ask questions about how the data is stored.
Neutrogena doesn't force users to rely on Skin360, but it would help the company to gather information about users and the skin conditions they "face," pardon the pun.