New Cinemagraph modes in LG V40 ThinQ.
We're only a day away from LG's official unveiling of LG V40 ThinQ smartphone. The phone will be officially launched on October 3. LG looks very excited to keep secrets for long. We confirmed that the phone has 5 cameras and a notch screen. On Monday they showed us one of the features the camera has.
What is Cine shot and how to take pictures of it?
Cine Shot will turn your photos into mini-movies they call Cinemagraphs. This is actually a gif but unlike gifs where all picture is moving for few settings, Cinemagraphs will only have a part of the picture moving. It's more like a combination of a picture and a movie.
This feature is available in third-party apps on PlayStore but it's rare to see it built into a phone's camera app. Here's how this feature works:
When you open the camera app of LG V40, tap on modes to view different features camera could do. Select Cine Shot and it will allow you to record a video. Hit the record button to record a three seconds video. But you have to be still while taking the video. The app will warn you and ask to hold still if it detects shaking.
Once you're done with the video the app will take you to the editor. There, you have to select the area which you want to see moving. Cine Shot mode will automatically make a three-second footage either forward or backward to turn it into a six-second Cinemagraph.
The clock below is the perfect example. You could also pinch to zoom in or out on the small areas of the picture.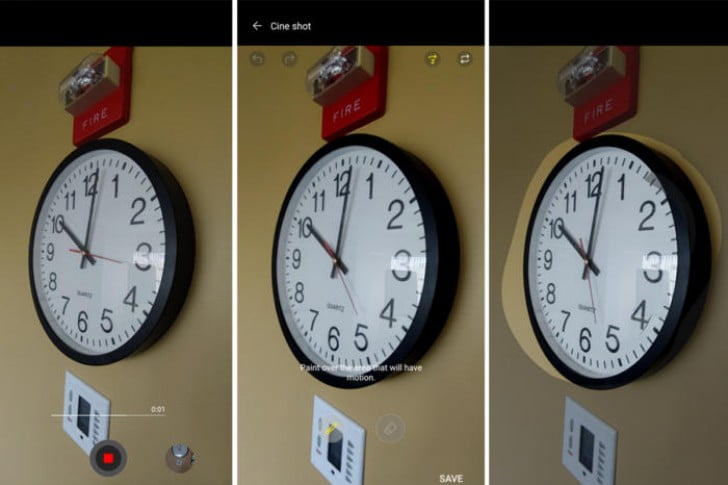 You have to finish the first shot before taking other. The format will be a 1080p MP4 movie file or a gif which you can share with your friend and family. Or if you like, you can also set it as your live wallpaper.
LG will uncover the rest of the V40 features at New York City on Wednesday, October 3 at 5 p.m. EDT.
We'll keep you updated about the rest of the features.