Organized, accessible information is essential for every business imaginable. In today's world, valuable information (e.g., names, phone numbers, email addresses, customer feedback, shipping/payment info, website analytics, and more) collection centres around taking the right approach to data management.
For some small-to-medium-sized business (SMB) owners, proper "data management" questions are well outside their wheelhouse. On the other hand, you may understand the importance and want to make the right decision but may not know where to start.
The good news is the trending development of incredible, individual-centric tools like website-development platforms and online form builders, which empower SMBs to take things into their own hands.
The question then becomes simpler: Which tools to use?
Let's start there.
Data management and online form builders
Whether you're looking to engage your business's social followers with a fun survey or collect newsletter subscribers, or if you need to make a simple sign-up sheet for shared responsibilities, data management starts with data collection – and great data collection means intuitive digital forms that are easy for business owners to create, and even more accessible for people to use.
Online form builders are more than just software – they are tools which, if you master them, can help you grow and optimize your business.
What can SMBs do with online form builders?
Small-to-medium-sized businesses can use form builders to power practically every part of their business. In some cases, this is precisely what business owners and entrepreneurs do. Other times, form builders are used as precision tools – like in the following famous use cases:
Applications: Hiring can be tough on SMBs. Online form builders can streamline, customize, and organize the process.
Calendars: Using online form builders to create shared team calendars is a great way to stay on top of upcoming meetings and deadlines.
Task management: There are several form builders out there that you can use to create, manage and assign to-do lists.
Customer FAQs: Let's say, for example, you have teams installing equipment on remote job sites. With a form builder, everyone can communicate mobily with the office and each other about existing inventory, routine safety inspections, etc.
Reporting: Use automated reports to communicate, congratulate, and help your team grow.
Workflow optimization: Whether managing budgets, escalating support tickets, or soliciting donations for a fundraiser, approval workflows are great for coordinating and automating team efforts.
Feedback: One of the benefits of using an online form is that it can help you get feedback quickly. For example, create one to test a new process, then gather feedback from your team or users. This will help ensure everything is working correctly and that people are on the same page (quite literally).
Internal help: Yes, IT teams love form builders! They're easy for everyone to use, making it easier for tech-oriented people to organize, understand, and help with everything on their plates.
Team check-ins: Internal satisfaction surveys can be critical when done right. They enable leaders to get an accurate, unfiltered understanding of their people.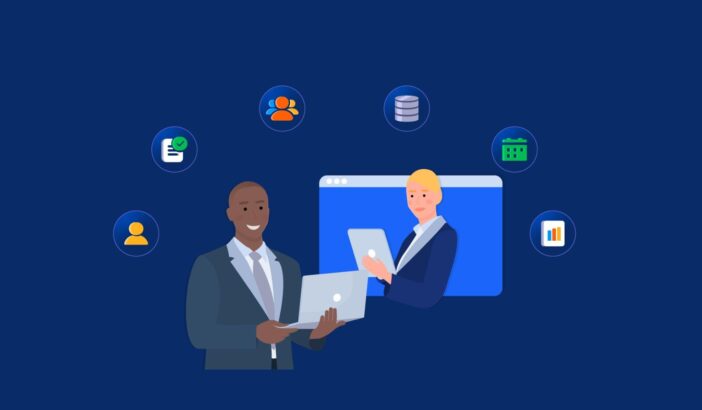 Form Builder Reviews
When it comes to evaluating form builders, there are three main things to think about:
Is the form builder friendly for businesses? (i.e., the form creators)
Is the form builder friendly for customers? (i.e., the form users)
How well does the form builder organize information and make data accessible and actionable?
We evaluated five of the most popular form builders on the market. Each platform below was chosen based on three main criteria and assigned a grade. The goal is to help make it easy to decide which form builder to use. But the fun starts only after you've made your choice.
Top 5 Online Form Builders
1- Jotform
Jotform is a powerful online application allowing anyone to create custom online forms quickly.
Jotform is one of the most well-known form builders for a reason – it's streamlined and effective.
With user-friendly, high-powered technology—no wonder it's one of the most popular online form builders.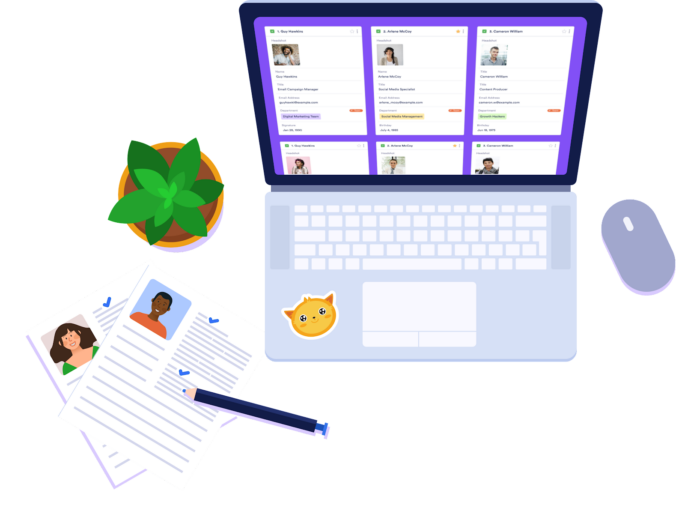 How is Jotform used?
Popular Jotform use cases include:
Registration forms
Application forms
Feedback/survey forms
Contact forms
Request forms
Polls
Voting forms
Is Jotform easy for businesses?
Yes. That's the short answer.
Yes, Jotform is very user-friendly. That's the better answer.
Jotform's drag-and-drop user interface is intuitive and makes form building fun, easy, and practical—without having to write a single line of code.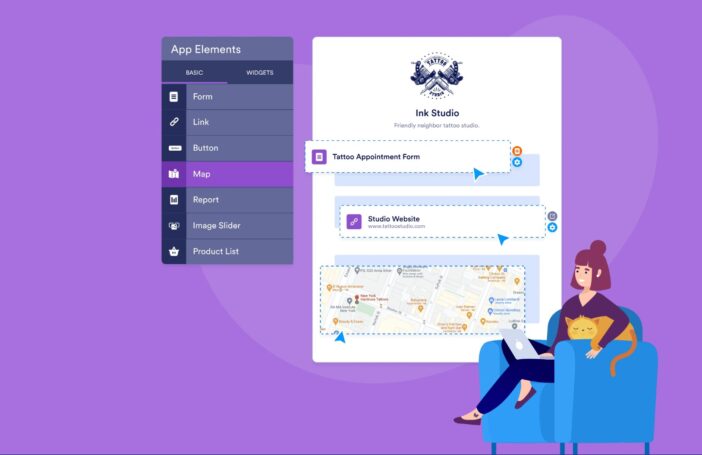 Is Jotform easy for customers?
Yes. End users love Jotform. Even when, in some cases, end users don't realize they're using Jotform-built online forms, they'll sense the quality and ease of use. Whether explicitly or subconsciously, everyone appreciates high-quality surveys, payment forms, applications, or information requests like "snack sign-up" or carpool forms. Jotform passes the user-friendliness test with flying colours.
Why is Jotform the #1 Online Form Builder?
Jotform is the best online form builder because it's incredibly user-friendly and includes advanced capabilities, industry-leading designs, customization tools, integrations, a template library, and more.
What makes Jotform unique is its advanced suite of products that go beyond just forms.
"We have an e-sign tool, a report builder, a table/database hybrid product, approval workflows, amazing mobile capabilities, and a lot more," Chad Reid, Jotform's VP of Marketing, says. "We also have more direct integrations than most competitors, including more than 30 payment processing integrations so that people can get paid directly through their forms (think donations, application fees, product orders, etc.). We essentially have the types of products and features that come from 16+ years of product development and listening to users."
2- Google Forms
People use Google Forms to create and analyze surveys in their mobile or web browsers.
Google forms are frequently used when users need quick forms and don't necessarily care much about branding or design. Brief information gathering – that's the primary use case and benefit.
Some of Google Forms' advanced features include conditional logic capabilities, unique response destinations, and adding scripting into your forms. Coders, in particular, will appreciate being able to add custom scripting easily.
How are Google Forms used?
Popular Google Form use cases include:
Setting up quizzes or tests
Event registrations
Online polls
Are Google Forms easy for businesses?
Google Forms is a user, and integration-friendly app that most users find gets the job done – especially for straightforward forms.
While Google Forms are easy to put together and generally accessible for end users, its most common drawback is its limited functionality and customizations.
Are Google Forms easy for creators?
Yes, Google forms are easy to use. In addition, Google Forms tends to get the job done for essential form functions like event registration, email collection, and the like.
3- Microsoft Forms
Microsoft Forms is a form builder Microsoft users can access as part of Business or Education Office 365.
Microsoft Forms integrates very well with the Microsoft suite of products, including Microsoft Stream, so you can take real-time polls and surveys as you stream live. Microsoft also offers excellent multi-language options to translate your forms and offer them to non-English speakers quickly.
How are Microsoft Forms used?
Popular Microsoft Forms use cases include:
Event registrations
Sign up forms
Attendance forms
Are Microsoft Forms easy for businesses?
Microsoft Forms gives SMBs the basics for building forms for their business or academic research, but some users say it doesn't go too far beyond the basics. For instance, customizable templates or diverse form fields.
Are Microsoft Forms easy for customers?
Yes, Microsoft Forms does an excellent job with custom functionality. In addition, Microsoft Forms are friendly to put together and intuitive to use.
4- Typeform
Typeform makes "collecting and sharing information comfortable and conversational." Conversational being the operative word – it's Typeform's standout differentiator.
Conversational forms have been shown to produce great results – in some cases, users will respond more entirely to conversationally-designed surveys and polls than they may have otherwise. Other cool Typeform features include logic jumps, hidden fields, and multiple end screens.
How is Typeform used?
Famous Typeform use cases include:
Conversational applications
Surveys
Conversational quizzes and tests
Is Typeform easy for businesses?
Yes, Typeform makes it easy for business owners and entrepreneurs to create conversational, aesthetically pleasing forms.
Is Typeform easy for customers?
Yes. In fact, for some objectives, conversational forms may be your best option. It depends on the customer information you're gathering and your envisioned end users.
5- Wufoo
Wufoo is an easy-to-use online form builder used primarily by corporations and organizations. Wufoo is highly customizable and generally easy to build and use. Wufoo's most remarkable features include detailed, real-time notifications and page rules. For instance, if a responder answers A, they can be brought to a different confirmation page than someone who answered B.
How is Wufoo used?
Famous Wufoo use cases include:
Accept payments
Create tests and quizzes
Set up event registrations
Is Wufoo easy for businesses?
Yes, Wufoo is considered user-friendly for SMBs.
Is Wufoo easy for customers?
Yes, end users have shared positive feedback on the simplicity of Wufoo.
Other popular form builders
Some of the other popular form builders that merit mention are:
Choose the correct form builder for your business.
Form builders give SMBs the power to collect, manage, and use data like the big guys. Any SMB owner or entrepreneur can master the online form-building tools on this list – and they'll be happy they did.