At Photokina, Panasonic announced L0Mount mirrorless cameras. Lumix S1 is 47 megapixels and S1R is 24 megapixels. Both cameras come with image stabilization and offer a large high-resolution EVF. Full specs are still not confirmed but the most interesting thing is the choice of the lens "The Leica L-mount". Panasonic confirmed the L mount is the collaboration between Panasonic, Leica, and Sigma.
Panasonic S1R and S1 have the same lens which is used by the Leica SL. This means not only will the cameras work with Panasonic's own S series full-frame lenses but also Leica's existing L-mount glass.
The company announced a 50mm f/1.4 prime, 24-105mm, and 70-200mm zooms. Panasonic plans to launch more than ten lenses by 2020. Users can also use Leica's L-mount collection extension and Sigma will also make lenses for this. The three companies formed the L-Mount Alliance.
The specs so far are as under:
4K60P video
Contrast AF, DFD technology
Deep learning AI autofocus
Dual IS (in-body and in-lens)
Large high res EVF
Dual card slots (XQD and SD)
3-axis tiltable LCD (probably a flippy out)
100% weather sealed
Low temperature resistant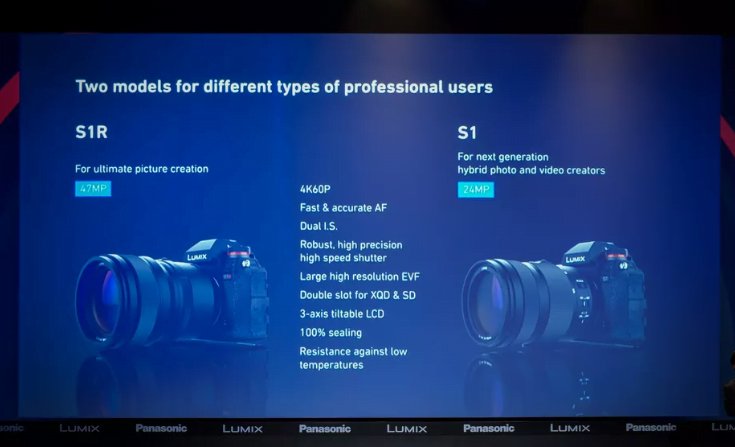 Both models will be out in the market in early 2019 and again no specific release date is confirmed by the company.
No details regarding the aperture have been mentioned on the two zooms. But within a year from launch, we should expect to see a total of 10 lenses from Panasonic, along with 8 already existing lenses from Leica, and whatever Sigma will release.
Sigma is likely to announce its new goals in its own press release. Panasonic announced that they will have more information about their other 7 targets at the next Photokina in May 2019.
For Micro Four Thirds users, you can breathe a sigh of relief. Panasonic said they would not abandon Micro Four Thirds in the near future. They will continue to work with MFT, and the two systems will coexist and grow simultaneously.
Sigma's role in this new L-mount Alliance is still unknown at this point. But we're sure that they will be a high-quality Art-series lens.
Pricing and Availability:
Panasonic didn't reveal the price of S1R and S1 cameras but the company says that both cameras will be released globally in early 2019.
Stay tuned for more updates!