HP just launched their Chromebook 14 at the CES 2019. This is the first time that a Chromebook has an AMD processor. As AMD processors cost less than their Intel counterparts, HP announced that the laptop will sell for a mere $269. The new AMD Chromebook comes with Radeon graphics.
In 2018, HP made several announcements that made their products some of the most appealing of the year. From leather laptops to the Spectre line getting premium updates, HP gave us its all. This seemed to leave little room for HP to wow customers at CES, but the latest release is keeping them in the news.
The Perks
Chromebooks run on Chrome OS by Google. These laptops are a growing contender in the PC market. The Chromebook 14's AMD processor adds more value than the previous Intel unit. It comes with a dual-core AMD Stony Ridge A4 or A6 CPU which has integrated Radeon graphics. The laptop has three display options: Full HD Touch, HD Touch, and non-touch.
Moreover, it has a fanless design, so the profile ended up at an impressive 18.35mm. There is a 1,366×768-resolution 14-inch display as well as 4GB in memory with 32GB storage. The Chromebook 14 works with Android apps from the Google Play Store and also has a micro-SD card slot for storage space emergencies. It will also have dual speakers by Bang & Olufsen and, potentially, a nine-hour battery life. A new striking color option – Ink Blue – joins the more conservative Charcoal Gray and Snow White models.
Another noticeable perk is the affordable price. Even though early Chromebooks have had price points in the $25o-range, it is still unique to get one with these qualities for under $300.
HP also announced a Chromebook x360 14 G1 at CES. This is a premium model for enterprise use with perks like a Chrome Enterprise license, an eighth-gen Intel Core i7 processor, as well as application sandboxing.
The Downside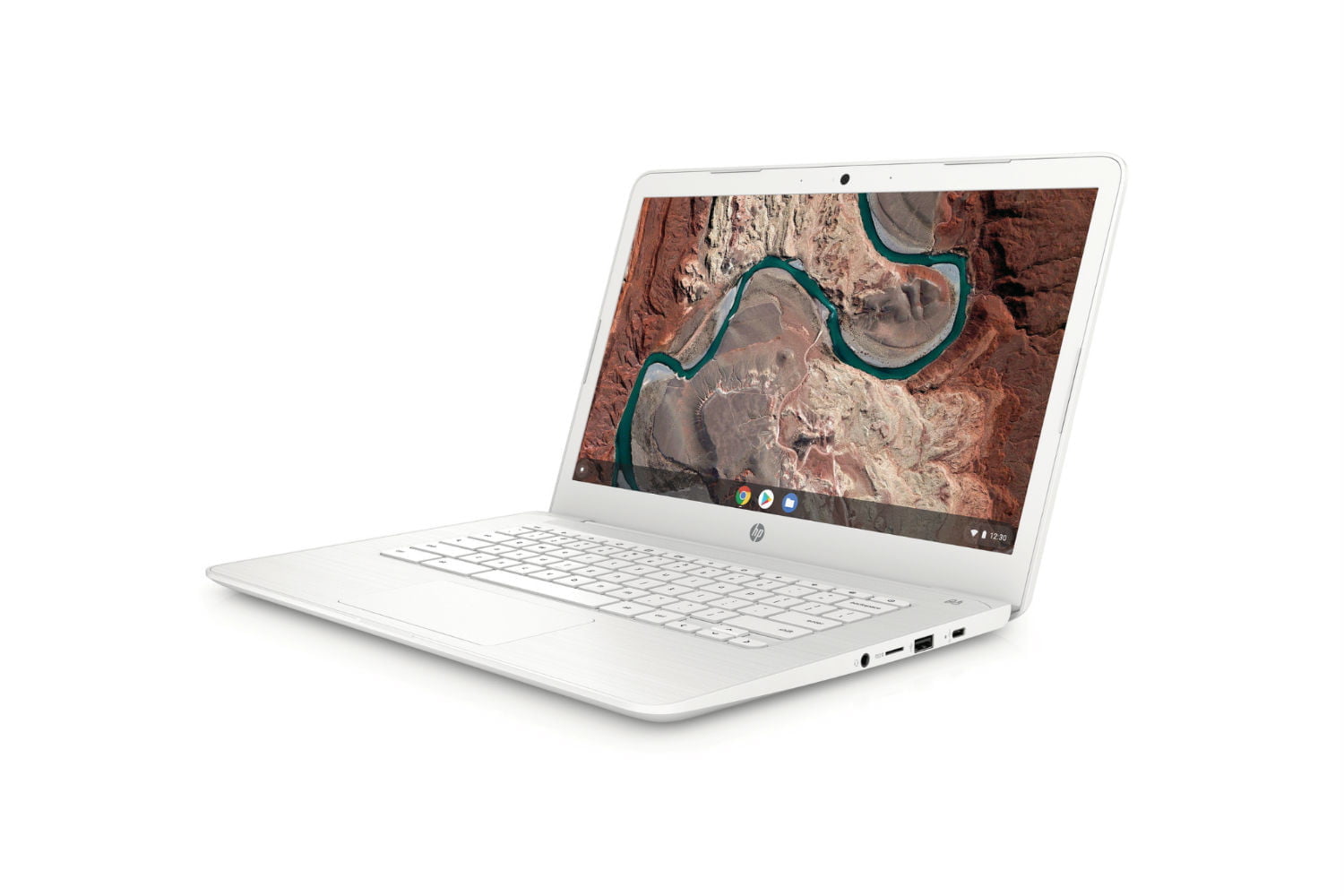 Although an AMD Chromebook is exciting and attractive, not everything about the innovation is perfect. The AMD chip should definitely bring good graphics, but the version in HP's Chromebook 14 is an old one, unlikely to be effective for better graphics. This laptop has an AMD Dual-Core A4-9120 which was originally released in mid-2016. That basically means that this chip is much slower and packs lesser power management capabilities than other Chromebooks at the CES 2019.
When news circulated last summer of HP replacing their Intel chip in Chromebooks with an AMD or Qualcomm chip, users embraced the news. For Qualcomm, the potential shift meant there would now be better connectivity options as well as a longer lasting battery life. For AMD fans, the hope was that this would up the graphics game in Chromebooks.
Sadly, the new Chromebook did not deliver on either.
Even though the AMD chip is superior to Intel chips in terms of graphics due to the Radeon R4, the old silicon in the chip brings its clout a notch down. Many are hoping that HP might consider more Chromebooks with better AMD chips in the future if this sells well. For the sake of a brighter future with better graphics for Chromebooks, that's what we'll be rooting for.
Will you be buying the new AMD Chromebook or waiting for a future model?