Toyota has joined hands with Apple to bring CarPlay to its vehicles earlier this year. This will not benefit you much if you're an Android user.
The good news is, according to Bloomberg, Toyota is in talks with Google to implement Android Auto in future vehicles.
At this time only the 2019 models of the Avalon, Corolla Hatchback and RAV4 have Apple CarPlay. Before this, the manufacturing companies used a SmartDeviceLink developed by Ford Motor Co. It controls how Android Auto and CarPlay look on the dashboard and limits their access to car data. We are still not sure as to which car or truck supports the access of Google infotainment software.
Back in January 2018, when Toyota agreed to use Apple's CarPlay, the officials agreed that the demand for Android Auto exists but didn't confirm when they'll allow Google.
This deal could be beneficial for Toyota as well because there are more Android users than iOS and they'll surely get excited about this deal.
According to Statista, the difference is a lot more than we think. Have a look at the stats here: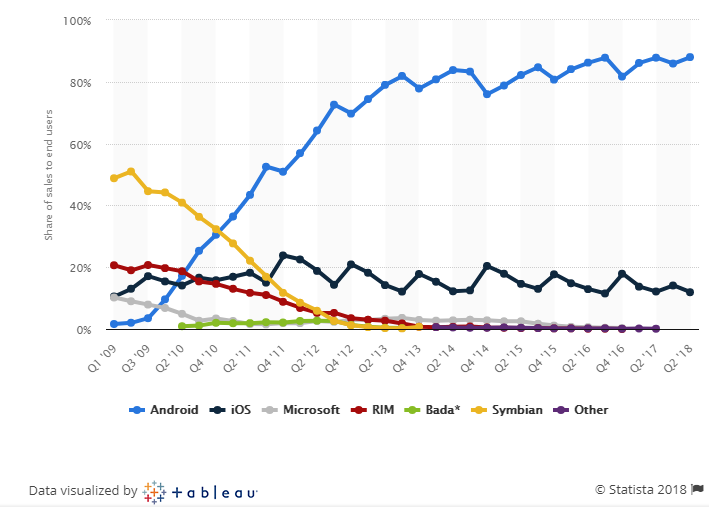 This statistic shows the global market share of mobile operating systems, in terms of end-user sales, from 2009 to 2018. In the second quarter of 2018, 88% of all end-user smartphones had the Android operating system. That's a huge figure.
Due to the delay in supporting Android Auto, it is unclear as to how much this hurts in the sales due to the absence of this service.
Toyota doesn't have a choice but to accept it if they want to compete with their rivals like Honda, Volkswagen and other automobile companies that adopted smartphone connectivity a long time ago.
We could expect an official announcement of the agreement between Toyota and Google sometime in October.
Does the support of Android Auto affect your decision of buying a new car? Let us know what you think in the comments section below!