Online stores and marketplaces are more important than ever—but unfortunately, many cannabis growers and entrepreneurs face major obstacles when using online marketplaces.
In the first half of 2020 alone, US eCommerce sales reached $371.9 billion—a 30.0 percent increase from the first half of 2019. Because of the ongoing COVID-19 pandemic, more and more entrepreneurs are operating online. This allows buyers and sellers to practice social distancing and trade conveniently from the safety of their own homes.
Many of these entrepreneurs use online marketplaces like Amazon, Etsy, or Fiverr to sell their products and purchase goods and services. These marketplaces offer a central site where buyers can look through seller reviews, products, and prices, while sellers get the benefit of having thousands of eyes on their store.
It's an exciting if tumultuous time to run an eCommerce store—unfortunately, most online marketplaces censor (or forbid) advertisements for cannabis-specific equipment and growing products. What's more is that setting up an individual website can take a lot of time, money, and energy, especially for home growers who simply want to sell used equipment as they scale up.
This is where Seedy comes in. Set to launch in late 2020, Seedy is an online marketplace specifically designed for cannabis growers. This is the first-ever app of its kind.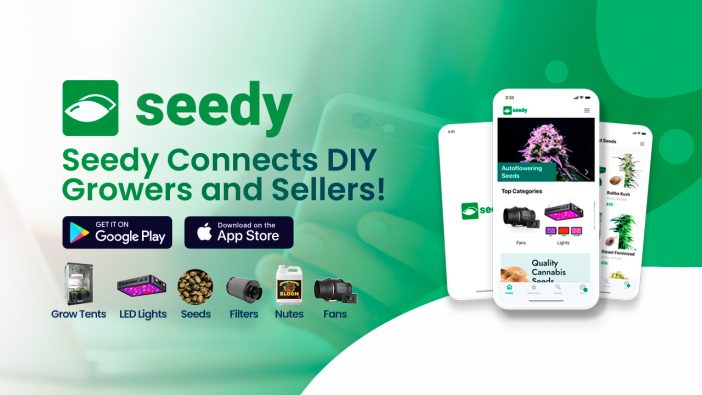 Using Seedy, growers can buy and sell items like equipment, seeds, and growing products while connecting to a community of like-minded growers. Because users connect on one central platform, buyers are able to shop around for different products. They can compare prices, seller reviews, and more. Sellers benefit from this setup because their products can be seen by any buyer who looks for a similar product, potentially getting thousands of impressions.
Because Seedy is the first online marketplace for cannabis growers, it will inevitably open up an exciting world of opportunities for buyers and sellers, which can benefit anyone from novice home-growers to experienced cannabis experts.
Given that the eCommerce industry and the cannabis industry have thrived over the past few years, online cannabis-related sales are projected to boom over the next few years. With the number of home cannabis growers also on the rise, Seedy will undoubtedly serve a growing yet underserved community when it launches at the end of 2020.