We have been seeing a lot of leaks and rumors for the last 6 months about the Galaxy Note 9 and the trend has now increased prior the phablet's launch this August.
A video that has recently been uploaded on Youtube gives us a good look of what the Note 9 will feature. It shows the Galaxy Note 9 with all its accessories and features on the packing.
https://www.youtube.com/watch?v=Hs8XYsMBHHU?rel=0
The leaked video has confirmed a lot of rumors that had been circling around for a while rejecting others. It gives up a clear image of what to expect from the device.
---
Also Read: Samsung Galaxy S9 launches in 'Sunrise gold' colour
---
What to Expect from the Note 9
Based on what we see in the video, the Note 9 will feature a 6.3-inch Quad HD+ super AMOLED display. The display size trims down to 6.2-inch if we do not count for the curved edges. The display is slightly larger than its predecessor, Note 8. Although, the increase in size is hardly noticeable. The phone will be IP68 Water and Dust Resistant ensuring your device's safety.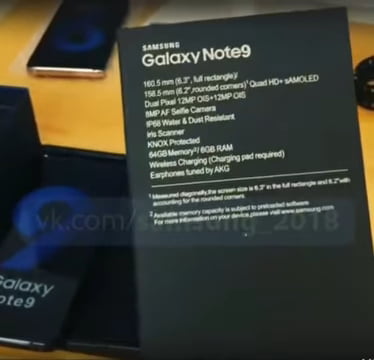 Moreover, the phone features two 12 MP cameras on its back. The cameras are supported with Optical Image Stabilization or OIS technology. This feature lets you take clearer photos. A significant improvement in this year's model is the placement of the fingerprint scanner. Contrary to the rumors of Samsung featuring an in-screen Fingerprint sensor, the device has now placed the scanner below the horizontally placed cameras on the back. This placement will protect your camera lenses from being frequently smudged by your fingers.
The model shown in the video comes with a powerful 6GB of RAM and 64 GB internal storage. A 6 GB RAM is likely to give the phone power to run even the heaviest applications very conveniently.
The front bezel carries an 8 MP camera with auto-focus support and a precise Iris scanner for unlocking your phone. Moreover, the Note 9 also supports wireless charging. However, the package does not include the wireless charger which has to be bought separately. Samsung has by far not excluded audio jacks from its phones and the Note 9 will feature the standard AKG-tuned earphones.
We can now safely say that Galaxy Note 9 is one of the most beautiful and powerful devices coming our way.
Suggested Reads: