Four New phones alongside two new wearables, everything that matter from Huawei Mate 20 Launch Event
CEO of Huawei, Richard Yu took the stage in London to announce four new phones from Huawei along with other items. Huawei Mate 20 series phones for 2018, wearables and some accessories with few other announcements.
Here are all the essential announcements from Huawei Mate 20 Launch Event.
The all-new Mate 20 Phones
Huawei announced not one or two, four Mate 20 variants with different specs and neat tricks.
As expected and already revealed in leaks, Huawei Mate 20 rocks a 6.53-inch LCD with a waterdrop notch and very little chin at the bottom. We all knew that new Kirin processors are coming hence the phone is powered by Huawei's Kirin 980 processor with a long-lasting battery.
The phone is holding a triple camera set up on the back – 12,16, and 8 megapixels sensors.
The primary lens offers a wide-angle lens, and secondary lenses are there for zoom.
It won't be wrong if we say that Mate 20 Pro was the show stealer and is the flagship in a true sense from Huawei in all these phones. The Mate 20 Pro holds a smaller display of 6.39-inch OLED panel which curves around the edges just like the Galaxy S9+. The new phone comes with the same Kirin 980 processor and a larger battery of 4200 mAh. The battery supports 40w charging which means you can charge it at super-fast speed. The back holds the triple camera system with 40-megapixels main camera along with other lenses used for zoom and wide-angle features. Mate 20 Pro also has a neat feature that lets the owner charge the other wireless charging enabled phone by just placing it on the back. It's also Huawei's first phone to support wireless charging.
The Mate 20 X (ex not ten) is another tack in the Mate 20 series with a massive display size of 7.2-inches. The phone rocks a whopping 5000 mAh battery that is the right gift for mobile phone gamers. Mate 20 X also supports M Pen stylus for productivity and runs on the same Kirin 980 processor. The phone takes the same triple camera setup from Huawei Mate 20.
Huawei Mate 20 RS (Porsche Design)
We are still not finished yet, there's one phone left, and that is Huawei Mate 20 RS which is Porsche Design exclusive edition. The RS version of Mate 20 comes with a leather back instead of a glass finish. It's a lot more expensive with a lot more luxurious looks and feels.
New Wearables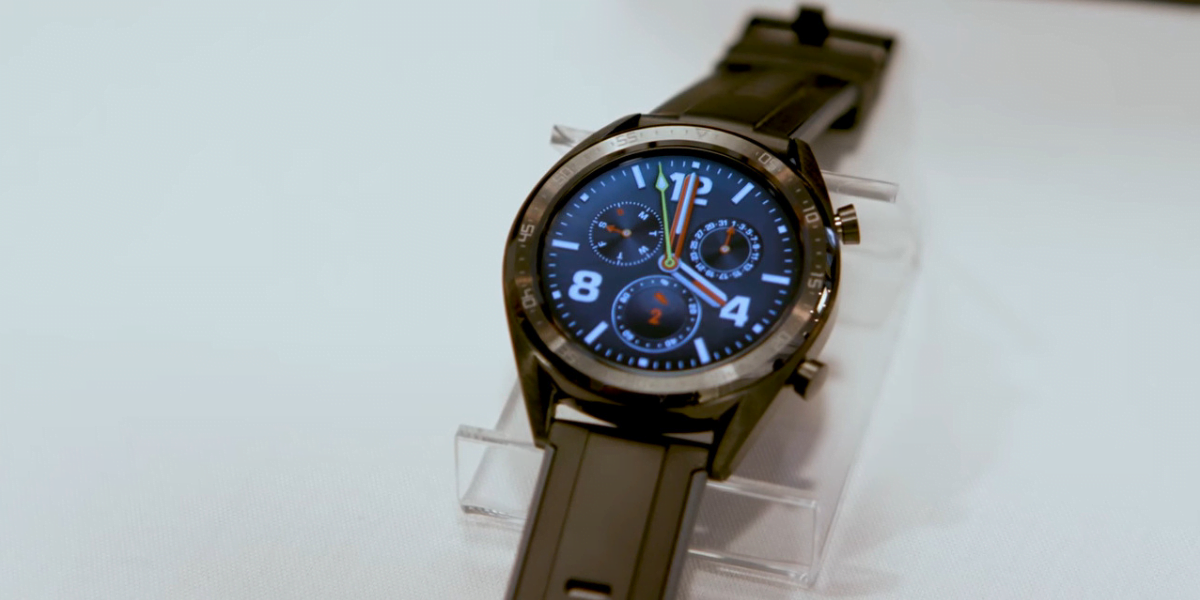 Just like phones, Huawei also announced two new wearables that are surprising gadgets for fitness freaks. The new wearables are rocking long-lasting battery and different features.
Huawei Watch GT is a surprise for runners and fitness freaks. This wearable can go miles without dying. According to Huawei, the Watch GT can live up to two weeks without charge.
Watch GT also ditches Google's Wear OS (previously known as Android Wear). The smartwatch has a heart-rate monitor, GPS, and HRM. Marathon runners will get 22 hours of battery life even with the heart-rate monitor. However, without GPS and HRM, the watch can last up to thirty days which means that you'll charge it 12 times a year. Huawei Watch GT Sport costs $230 while the classic version costs about $288.
Huawei's new band is a treat for the runners. The activity tracker is more accurate than the previous model of the series. Huawei says that the Band 3 Pro is more accurate because it's using three satellites: GPS, Glasnost, and Galileo just like Watch GT.
The band can track cycling, swimming, running which makes it a perfect wearable for triathletes. The 20-day battery life of Huawei Band 3 Pro makes it a valuable fitness band competitor. Huawei Band 3 Pro costs about $114 and is cheaper than many other fitness bands with activity trackers and all these features.
NM Card
This announcement from Huawei Mate 20 Launch Event is also worth a mention. Huawei announced a memory card that is smaller than the microSD card. The new NM Card might dethrone microSD from its place as many smartphone manufacturers use microSD as a standard in their phones.  NM card can fit in the space of the Nano SIM tray.
Let us know what's your favorite announcement from Huawei Mate 20 Launch Event!