Another box-packed first-gen iPhone is set to auction for a whopping $50,000 price tag at a U.S. auction house, LCG.
Karen Green, a cosmetic tattoo artist is auctioning her box-packed iPhone at a staggering $50,000 price tag. The phone, which was released in 2007, features a 2-megapixel camera and 8GB of storage and had sat on Karen Green's shelf for years before she realized its worth. At that time, the phone was exclusive to AT&T and ran on a 2G network with no App Store.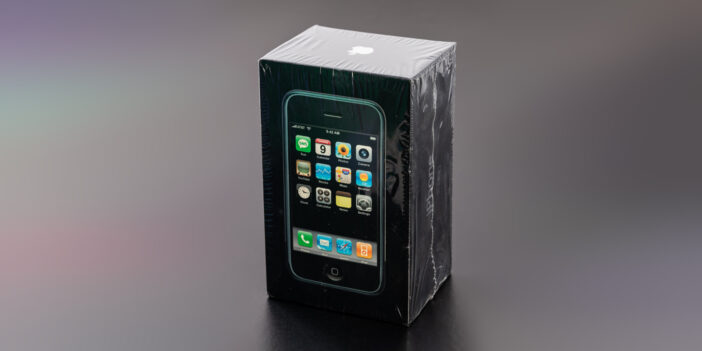 If you look at the iPhone history, the first-gen iPhone was priced at $499 for the base model with 4GB storage and $599 for the 8GB variant. Green's iPhone is the $599 variant with 8GB of storage.
Green made an appearance in 2019's "The Doctor and the Diva" show where she tells the story behind keeping this phone for that long. She says that after getting a new job in 2007, a friend gifted her a brand-new iPhone back in 2007. However, she didn't open it for years and later realized it was something Apple enthusiasts or iPhone collectors would be interested in.
A valuer at the show revealed the worth of the iPhone to be $5,000 at that time. However, now, it's set to auction at $50,000, which is 900% more than its 2019's price. The current bid is 205% more than the original price.
The auction started with $2,500 and currently has 14 bids in total (as of writing this article) with the highest bid of $15,294. In the past, LCG has successfully auctioned a similar unopened iPhone for $39,000.
If you're a super fan and would like to get this first-gen iPhone for $50,000, here's your chance to own a sealed box as there are only 13 days left in the auction at the time of writing this report.
iPhone truly changed the way our world works. After the inception, payment methods, connectivity, doing work, App Stores, how you order food, grocery, and even cabs, everything has been revolutionized. Not only this, iPhone has replaced many technologies as well.
Also read: Top 63 tech innovations in history
The first iPhone was unveiled by Steve Jobs at MacWorld in 2007.
"We're going to make some history together today."

Steve Jobs, MacWorld 2007
While speaking at his keynote to the audience, he first called it a "wide-screen iPod with touch controls," "a revolutionary mobile phone," and "a breakthrough internet communicator." And from that day onwards, tech announcements haven't been the same. Here it is:
Editor's Picks: