Pregnancy is the time filled with anticipations for the couples as they are excited about how their unborn child is going to turn out to be. After all, nine months is a long time to wait to have a glimpse of those little fingers and toes.
Several ultrasound scans are scheduled during these months to monitor the progress of the baby and to look for any abnormality of the fetus beforehand. For the parents,  baby's health is the top priority.
What is Ultrasound?
To put it simply, it is a scan. In this procedure, high-frequency sound waves are transmitted by a transducer, which passes through the mother's abdomen. The sound waves bounce off the fetus in the form of echoes. A computer detects these echoes and forms an image. Usually, the ultrasound performed is a 2-D image.  A 3-D image is a new revolutionary trend.
3D Ultrasound
3D ultrasound is not different from 2D as the process is similar and the mother does not feel any different. It is advanced technology. In this type of ultrasound, thousands of body images are taken all at once. A computer converts these images into 3D form. The images are quite clear.
All the delicate features can be noticed. The baby's face and those cute little fingers and toes can all be seen in the 3D image.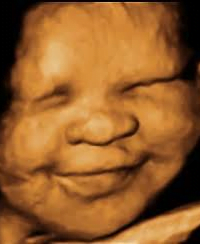 In a 2D image, the sound waves are transmitted straight to the fetus and reflected echoes are converted into the image. Conversely, in 3D ultrasound, these waves are transmitted at different angles all along the fetus height, width and depth of the baby.  3D ultrasound involves taking thousands of "slices" in a rapidly occurring series.
Also read: How does medical virtual reality make healthcare more feasible
Benefits of 3-D imaging:
Although there is no definite medical benefit of 3D over 2D, it just gives better visualization.
Abnormalities such as cleft lip, heart defects or neural tube defects can be better visualized.
Early detection and management can be done in case of any abnormality.
Parental preference for looking at baby's face and other features can establish good bonding and emotional attachment.
Parents have to rely less on their imagination.
3D images concerns:
No additional health benefits
Cost issues: Yes! It is expensive. Parents need to pay a lot for the 3-D ultrasound
High level of expertise required
High level of clinical skills needed to perform the ultrasound
The transducer needs to be kept steady and still
FAQs about 3D ultrasound
Before trying something new especially if it concerns your baby, a lot of questions pop up. We have answered a few common ones for you:
Is there any particular time to schedule a 3D ultrasound?
It is generally recommended to perform the ultrasound between 26-30 weeks. This time specifically because by this time there is sufficient fat built up beneath the baby's skin.
How long does it take?
Typically, the procedure takes about 30 minutes.
Are there any safety issues?
Ultrasounds usually are part of routine examinations performed during pregnancy, but the 3D and 4D images are not routinely scheduled. Studies indicating their safety have mixed results. The American Congress of Obstetrician and Gynecologists (ACOG) says there is no reliable scientific evidence indicating the harmful effects of this ultrasound on the fetus but risks which can be caused are still unclear.
Even the multi-functional radiology has its impacts on the general health of the patient. Likewise, the Food and Drug Administration (FDA) proposes the effect of ultrasound on heating tissues which can create air pockets. The long-term effects of these air pockets on a fetus are not yet determined. Due to these ambiguities, a consensus is made to do these ultrasounds by qualified medical practitioners according to the needs of the patient.
What's exciting for the parents?
After getting these ultrasounds, parents can take images or the copy of the 4D movie to home.  They can see their baby moving, yawning, sliding tongue out, etc. So, this all becomes exciting for them.
Does the position of Placenta interfere with this imaging?
If the placenta is at the front wall of your womb (uterus), which is known as anterior placenta, you can get the best image of your baby if you wait until 28 weeks.
The position of baby matters!
If the baby is lying in a position with face towards the outer wall of the uterus and there is an adequate amount of amniotic fluid, facial features can be easily seen. Conversely, if the baby's face is towards the back wall of the uterus and the head is down in the pelvis, or there is not sufficient amount of amniotic fluid in the uterus it can be difficult to view all the features.
Also read: Multi-Functional radiology in healthcare
Conclusion:
With the technologies of multi-dimensional ultrasounds, parents have the liberty to see their baby before they are born. From being able to identify even the tiniest of anomalies to 3D images of the fetus, we surely have come a long way.
From a medical perspective, it is useful for the diagnosis of gross abnormalities involving external as well as internal features such as cleft palate and cardiac abnormalities, etc.
The only concern is an extra amount of ultrasound waves as compared to 2D ultrasound so it should be performed by trained specialists. Moreover, it shouldn't be a part of routine scheduled imaging normally performed during pregnancy.